ISA members mark the 75th Anniversary of the End of the Battle of Cassino, May 2019. Sue Hughes
---
---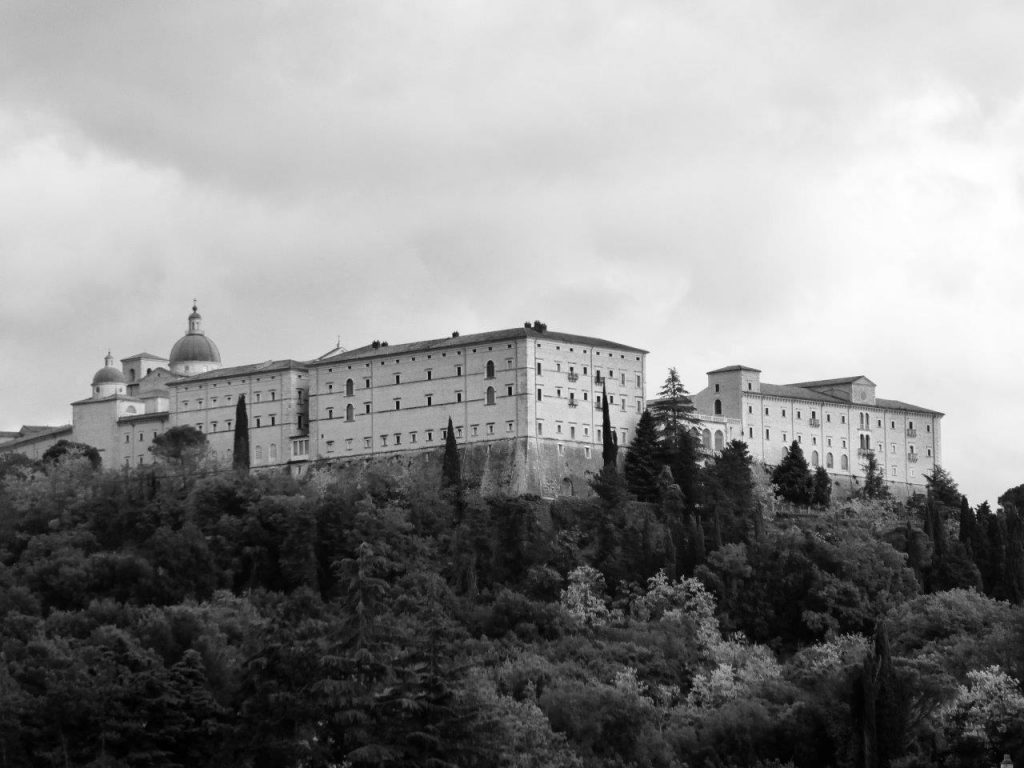 ISA members mark the 75th Anniversary of the End of the Battle of Cassino,
May 2019.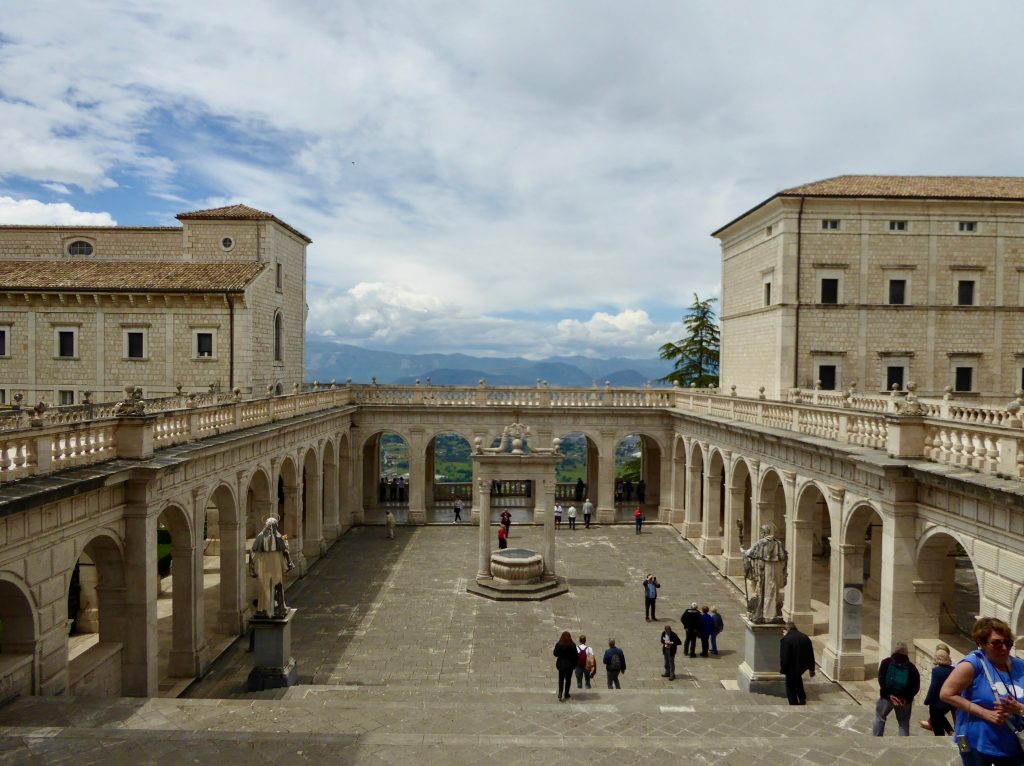 Italy Star Association members Sue Hughes and Frank de Planta travelled to Monte Cassino to mark the 75th commemoration of the end of the Fourth Battle in May 1944.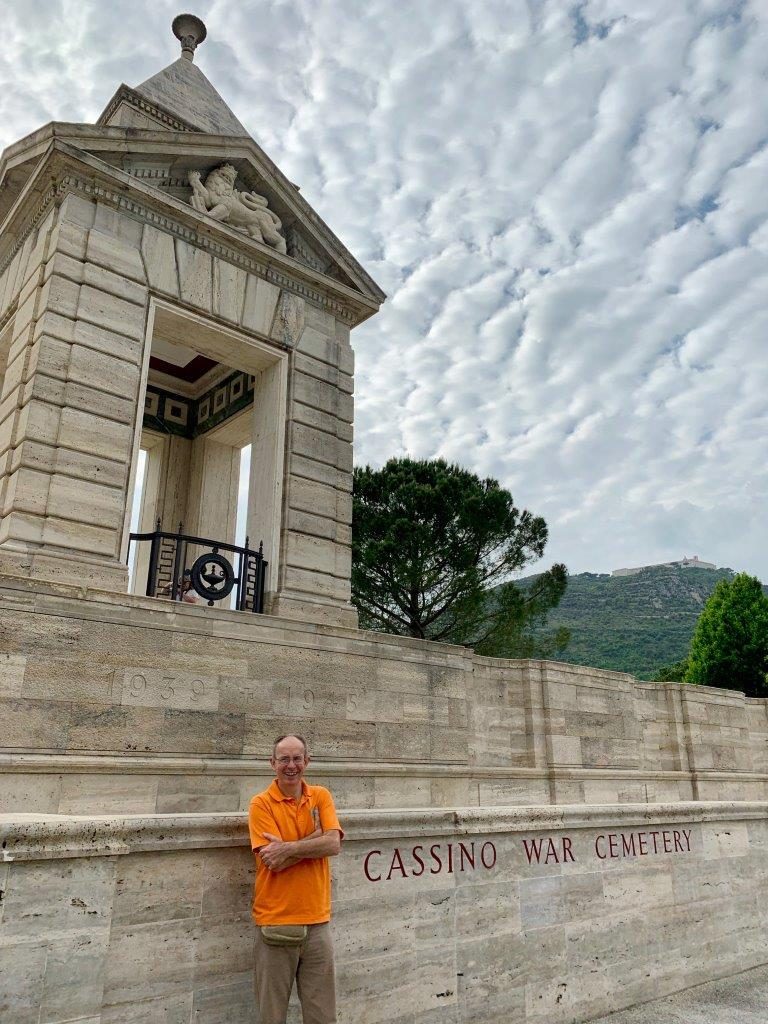 Guide and military historian Frank led a party of 48, half of whom were repeat participants, on a detailed study over three full days, looking at every aspect of the four battles for Cassino. Frank set the scene with an overview covering the background to the Italian Campaign before the group travelled to various stands around the battlefields, selected to bring the battles to life and allow people to walk the ground where their relatives fought.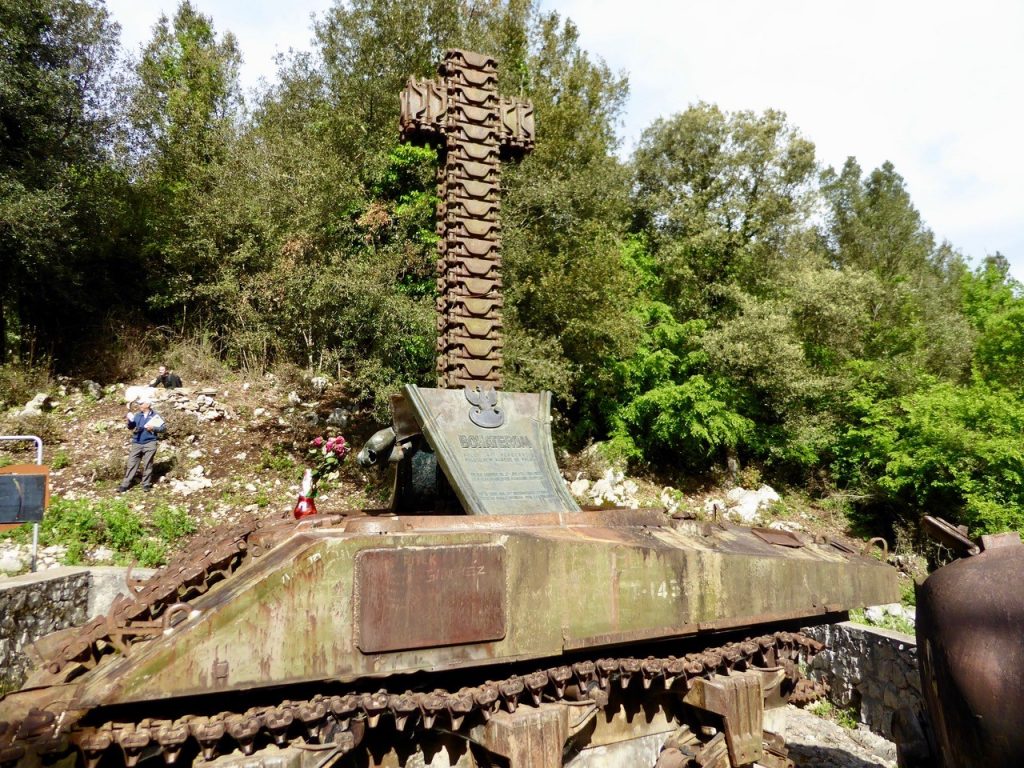 Locations included: the Rapido River crossing, Hove Dump Road and supply routes, the building of the Cavendish Road, the British, Polish and German Cemeteries – all unique in their own way, Monastery Hill, the attack on the Railway Station, the tumultuous battles along Snakeshead Ridge, the vital ground of Point 593, Castle Hill, the Bottleneck tank attack behind the Monastery, the Monastery, Amazon Bridge, the Canadians on the Hitler Line at Aquino and the controversy of Velletri Gap.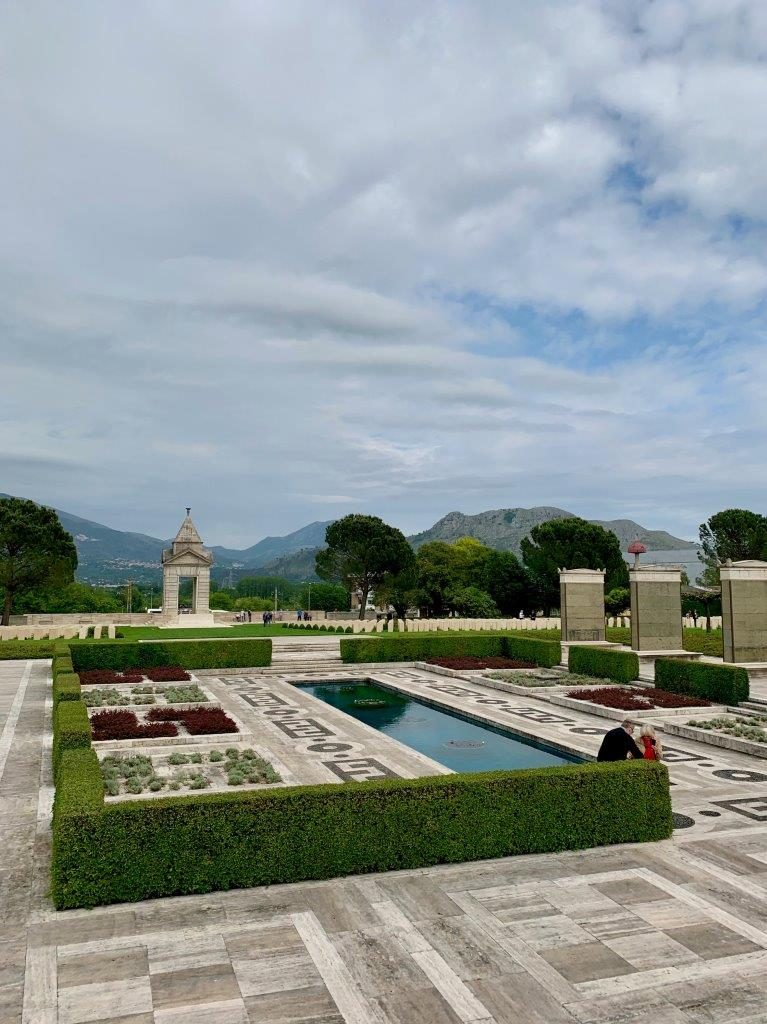 Cassino CWGC was the first stop. Sue first visited Cassino in 2016 to locate the Kingsmill Bridge and walk down to 3/8 Punjabs' adjacent river crossing. She placed 23 poppies on behalf of all those killed in action from her late father's regiment – Captain Wilfrid Potter, 3rd Battalion 8th Punjabs, 19th Indian Brigade, 8th Indian Division, Eighth Army.
This wonderful poppy tribute to individual soldiers has since been adopted by Frank's military study groups whenever they stop at Cassino, Anzio, Salerno, Ancona, Coriano Ridge and Rimini's Gurkha CWGCs. It is a very special way to remember those killed in action.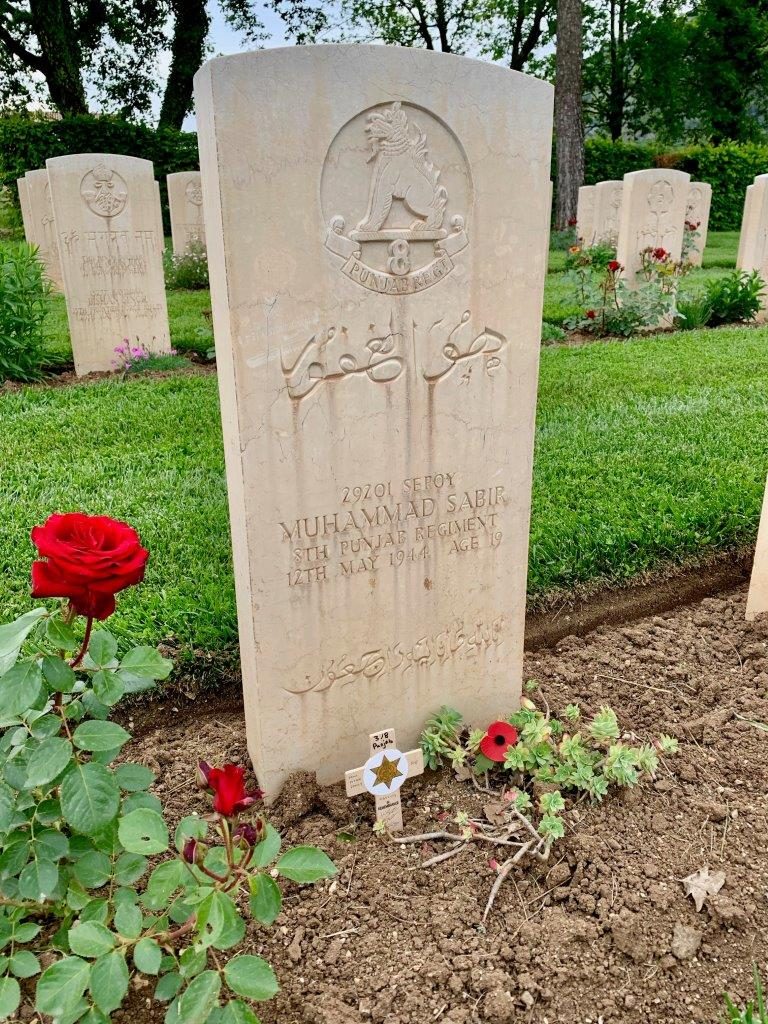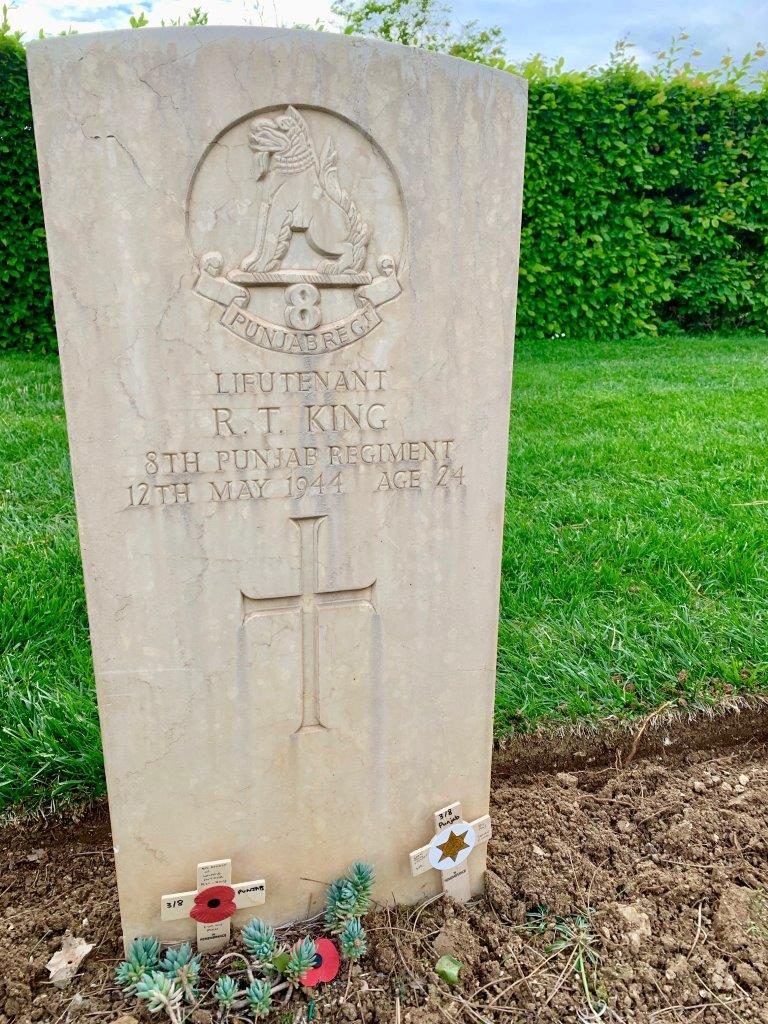 This year, Sue placed poppies and ISA crosses on behalf of the Potter family and for connections whom she has made through the ISA – one for Captain Denis Stewart of the 3rd Battalion 8th Punjabs who was killed on the River Sangro in November 1943 as 8th Indian Division pushed northwards in attempt to establish a bridgehead, and another for Ted Marks, late Royal Horse Artillery and a veteran of the East Hants ISA branch who died in December 2018.
Two group members brought personal and poignant stories. George Barrick, 75, son of Private George Barrick, who was killed on 14 May 1944 whilst serving with 1st Battalion Royal West Kents, has visited his father's grave on numerous occasions – he was just nine months old when his father was killed, aged 32.
Tony Pittachio was a civilian stranded in Italy in 1939, aged 15 who later joined the New Zealanders towards the end of the war. His mother was Italian, his father British, and they were unable to return to London. Now aged 94, he provided a fascinating insight into the depravations which Italians endured during WW2.
Frank traces relatives' history for many who travel on his battlefield studies, enabling them to learn about that which 'they never really spoke about'. Every story is unique, a valuable part of family history at a time when the generation of WW2 voices is slowly disappearing, an opportunity to pay respects and to make sure 'no man is forgotten'.
Frank's father was a Royal Engineer and a highlight of this trip was travelling down to be beside the Rapido River at 0500 on 13 May 2019, the exact minute that the Amazon Bridge was opened for tank traffic, having been completed under terrible fire by sappers from 7 Company RE, 59 Field Company RE and 225 Field Company RE. The feat has been immortalised in a moving oil painting by Terence Cuneo that brilliantly captures the moment.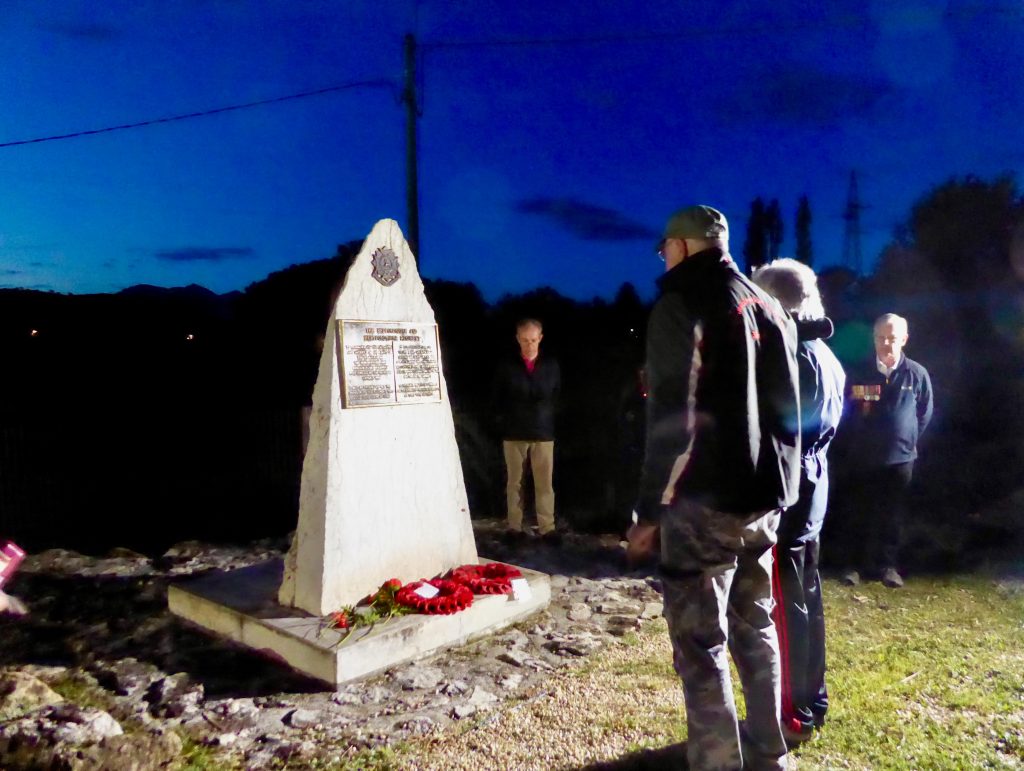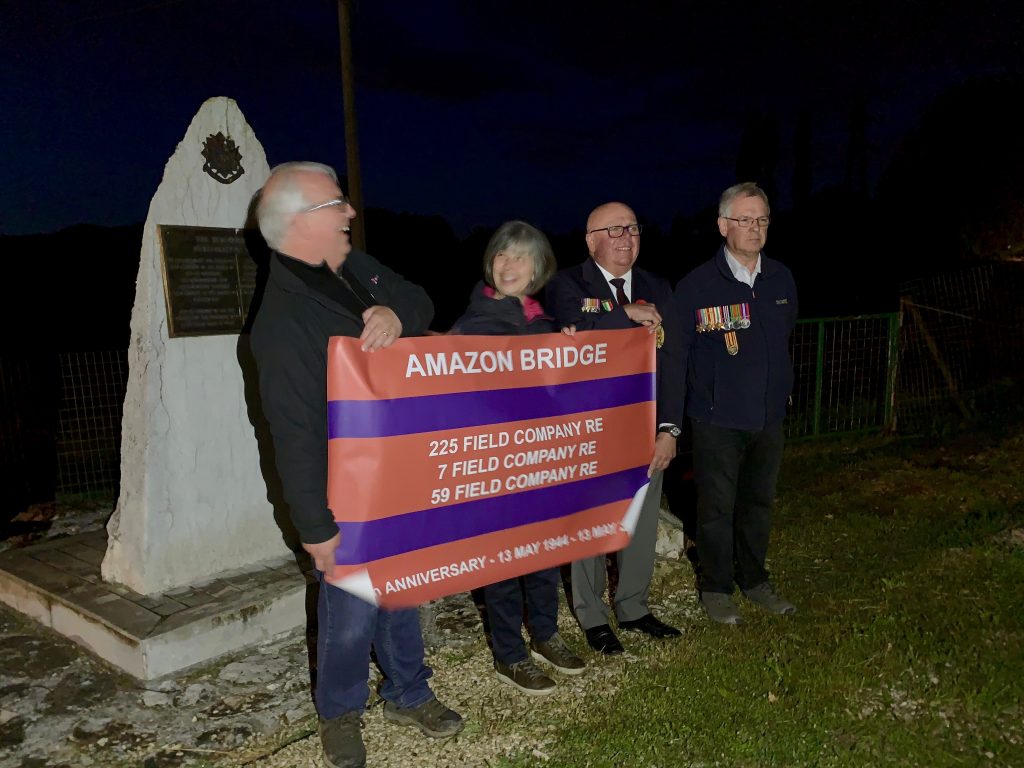 Relatives of some of those sappers were present for the ceremony, which featured the Last Post, two minutes' silence and Reveille, and, thanks to the tireless work of George Cowie and former sappers of the Shiny 7th Association, a permanent memorial will be officially unveiled later this year.
Also returning to mark the 75th Cassino anniversary was Steve Deput, whose father was a Polish stretcher bearer, pictured on the front cover of Matthew Parker's book, Cassino. Steve has visited the Doctor's House twice, near Point 593, exactly where the photograph was taken.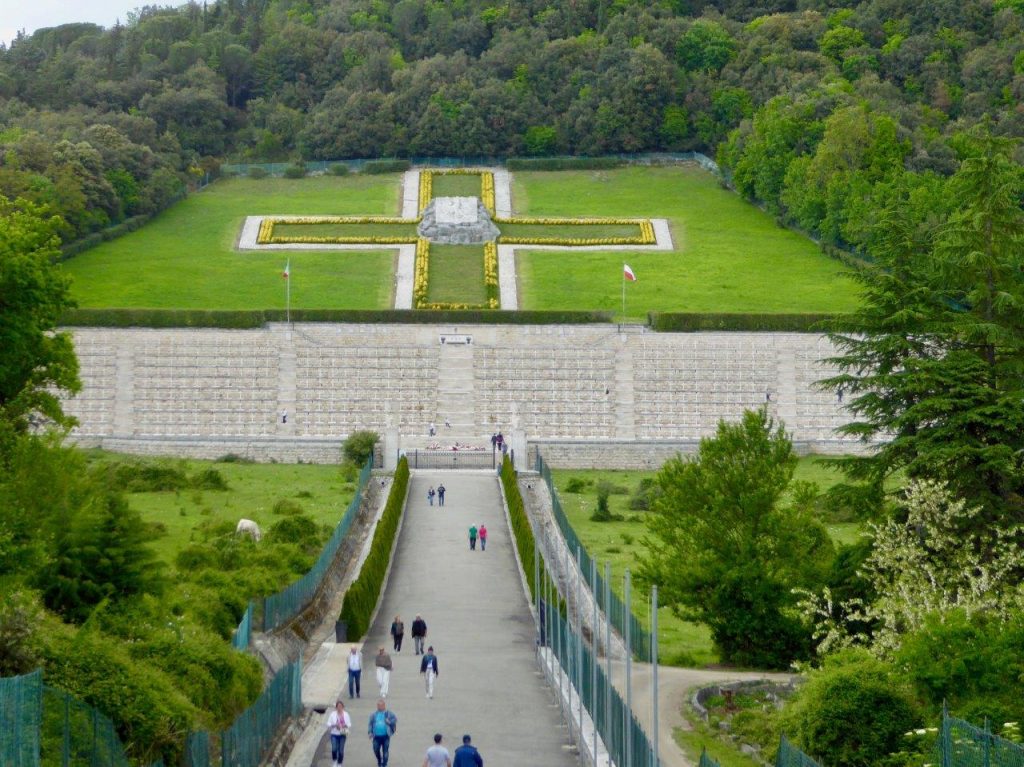 Sue said: "It was another fantastic trip with a superb group of thoroughly nice people. George's story was so moving; I'm lucky because my father survived and knew his grandsons. Very much in my mind was Sapper Fred Steggles, 97-years-old when I met him in 2016, of 8 Field Squadron RE, an ISA veteran who crossed the Rapido on the back of a tank. To spend time with him previously was a privilege.
"Frank is frequently in Italy and able to take photographs of headstones if relatives wish, and incredibly generous with his time and encyclopedic knowledge, helping people like me find out more. Every single story or reason for visiting is equally important and the ISA website is a vital resource in pointing people in the right direction and making connections."
Sue Hughes