Did you pass through Roccamonfina ?
---
---
Did you pass through Roccamonfina ?
The Italian commune of Roccamonfina in the region of Campania and is approximately 60 kms north west of Naples. Today the commune has a population of 3500 – 4000.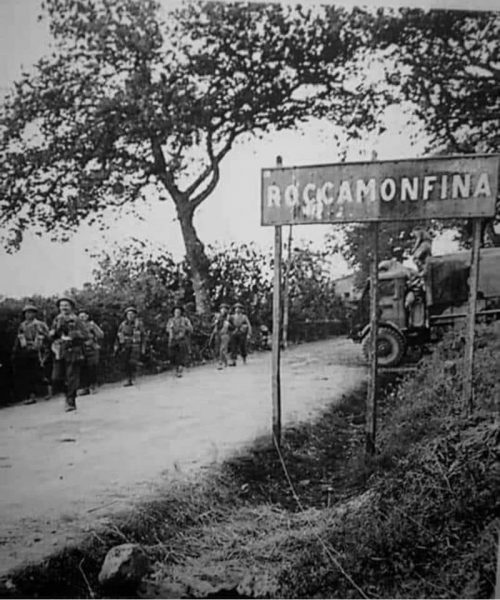 Above: British troops on their war through Roccamonfina 1943.
Just 6km to the north is Mt Camino an area that many of you will have passed through on your journey north in late 1943 before you headed on the Monte Cassino.
The association "Una Storia da Raccontare" is a historical and cultural organisation whose goal is reconstructing the history of the commune during WW2 in their small museum. This is a not for profit project and the museum will be free to visitors, they also plan to produce a book and a DVD that combines verbal testimonies and the display material.
The area had suffered terribly at the hand of the Germans with many hundreds of men and boys from the surrounding areas being taken prisoner and sent to work camps in Germany. Some of those men were also sent to work in the death camps.
I know that we get many requests for help and some projects like this one with your support could help tell the story of this lovely area during those difficult days of 1943.
Below is some of the graffiti that troops left in the local cemetery.
They are seeking our help. In particular they are searching for photographs and documents including war diaries and other artefacts which would help them build a picture of life during those war torn days.
You can get in touch with their contact by emailing Valerio Buco who's email address is valeriobuco@gmail.com or via me at info@italystarassociation.org.uk
If you can help please do so. I feel that it is important that we help in local projects like this and that the more information that the younger generations have about those days from the past will help them them to understand what was done on their behalf. I know that like many areas of Italy the local population suffered unbelievably at the hands of the German occupying troops. If you were there or passed through the area you can help paint the picture from a different angle. Only by knowing can the younger generations understand and hopefully avoid such things in the future.
Robin Hollamby. National Vice Chairman.