The end of the War with the 23rd New Zealand Infantry Battalion
---
---
Antony Pittaccio recently wrote about his experiences at the end of the war with the 23rd New Zealand Infantry Battalion, and how as a teenager he joined the NZ Army in Italy during the campaign.
In 1939, when I was 10, we went to spend a few weeks with my mother's family in Cassino. Because of his work, my father couldn't come with us. However, war broke out just before we were due to return home, and we were stuck in Italy, with my father in England. We were just a few kilometres south of the town, actually having been shelled out of two houses, and witnessed the four battles there, but also including the Mignano Gap. I joined the New Zealanders in the Cassino area in May 1944, when I was just over a month in to my 15th year.
VE Day. Where were we, what were we doing. I was with HQ Company of the 23rd New Zealand Infantry Battalion. We had gone through the Genghis Khan Line, the last campaign in Italy, and hostilities ended in Italy on 2nd May, a few days before VE Day.
We celebrated the end of the war in Europe, and the victory banquet held by the officers on 8th may was also a farewell party for our commanding officer Lt. Col. Sandy Thomas who came to England to join the New Zealand Prisoner-of-War Repatriation Unit. He was 24 years old when he assumed command of the battalion and 27 when he left.
Celebrations, however, were not as high spirited as they might have been had we not been in Trieste at the time. We were in what was known as 'The Blue Line' and the Battalion's task was to prevent the Yugoslavs from taking Trieste and Istria. The situation was quite tense, with both sides having set up roadblocks with No Man's Land between them. We were not allowed to go into Trieste unless it was for a specific reason and at least in pairs and armed. The Yugoslavs would fire bursts of machine-gun fire, not directly at us, but to show that they meant business. A nasty situation could have erupted at any time. The feeling was, as commented by someone, 'Hell! We've finished one war, only to be pitched into another one'.
The Yugoslavs, however, came to their senses on 22nd June after what turned out to be a friendly meeting between our Battalion Commander, L. Col. Grant, and their Battalion commander. They removed their roadblocks and the Yugoslavs put on a celebration to which they invited some of our members. It was for us the first time that we felt war in Europe had ended. But it was also a bit of a low-key affair because on every ones mind was, 'Now what do we do'.
The Battalion moved to Florence and from there into history. Some 100 members went to fight the Japanese. I asked to go with them, but without success. The rest returned to NZ. It was an incredibly sad time for me. What had become my brothers, were going to the other side of the world and I would never see them again. (Wrongly as it turned out). I transferred to a NZASC unit and after a few months to the NZ Graves Concentration Unit, the last handful of New Zealanders left in Italy.
We built the NZ section of a military cemetery in the North of Italy, and I could not have left the NZ army in a better, more emotional way, than to have seen to the accommodation of some of 'my brothers' to their eternal resting place.
When sitting quietly I sometimes feel tears in my eyes, as I am sure do many veterans. A memory may be brought to life by a song, a smell, a hymn, or whatever, and we know why we cry. That wasted youth. The lost dreams. And what is also tragic, is the loss to society of what might have been great writers, painters, teaches, doctors, engineers, electricians, carpenters, etc. and the loss to society of their off springs. I survived, and because of that I see God in my sons and grandchildren because they would not be here had I not survived.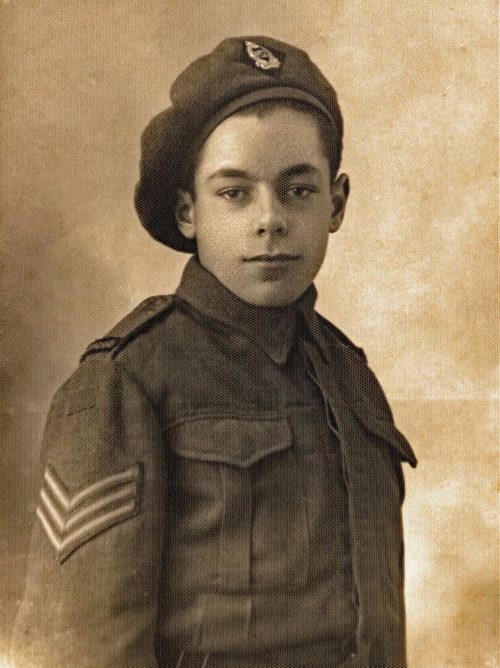 Antony Pittaccio, 23rd New Zealand Infantry Battalion. Antony say 'the stripes were purely honorary because it was thought that as an interpreter I should have them'.
Antony also sent us this poem that he has written.