Italy Pilgrimage 2014
---
---
REPORT ON THE PILGRIMAGE TO ITALY, MAY 2014 – WITH THE MONTE CASSINO SOCIETY
Thursday 15th May
It was a 5am start from our hotel on the edge of Heathrow, to Terminal 5 for check-in, and meeting-up with other members of the party, who were travelling from this start point. After some slight difficulty arranging for the Italy Star Association national standard to be accepted on the flight, we were through all the security checks, to a very welcome coffee and Danish pastry, before taking the transit train out to where our flight was boarding.
Our flight was smooth and we landed slightly ahead of schedule into the Italian sunshine at Rome Fiumicino airport. Here we linked up with all those who had been on our flight 'under the wing' of Judith Coote and Paul Taylor of the Monte Cassino Society (MCS) who guided us to the coach for our drive to Castelpetroso – and our hotel for the week. From the airport we drove through typical English weather including heavy rain and thunder! We hoped this wasn't set in for long! After checking-in and unpacking we met and greeted other members of the 100+ party. Flights had also come from Liverpool and Gatwick.
A lovely, much needed dinner, was enjoyed, after which the new standard of the Monte Cassino Society was unveiled, prior to its first outing on Sunday. The day had been long and tiring, so bed beckoned early for many of us.
Friday 16th May
We drove from the hotel over the River Volturno and through Venafro, which has a cemetery for the French and French Colonial forces. Our tour historian guide said that Venafro had been bombed by the Americans who had mistaken some of its landmarks for those of Cassino town. After the battles of Cassino, the valley of Venafro was used as a rest area for the troops.
On arrival at Cassino cemetery the group was left free to walk round looking for headstones of those they knew or had been asked to trace – to pay respect to. 4,271 Commonwealth servicemen of the Second World War are buried or commemorated at Cassino War Cemetery. A total of 289 of the burials are unidentified.
I had been asked by my friend Shirley in Devon, to locate the name of her uncle, John Dolton. He had served with REME, died in action in Sicily, and she knew his name was recorded at Cassino War Cemetery. I located his name on one of the twelve marble pillars, each pillar denoting those who have no known grave, and paid my respects to John on behalf my friend Shirley.
The British service of remembrance was in its final stages of preparation and whilst we visited, there were members of the Foreign & Commonwealth Office, security staff as well as grounds staff, all working hard to ensure the smooth running order for Monday.
Austin Heal, a member of our party had not visited Italy before and his story was very thought provoking. Austin was just 3 months old when his father (Albert) was killed on 12th May 1944. His death happened whilst his regiment was crossing the Gari (Garigliano) River. Ironically Albert was in the last boat to make the crossing and he was sitting at the back of the boat, as the German troops opened fire – he was killed instantly. Albert never met his son, and of course, Austin never had the fun and pleasure of knowing his father. So Austin and his wife were especially in Italy to find Albert's resting place in the Cassino Cemetery and pay tribute to his memory. The occasion was emotional – a reuniting of spirits – two people of the same blood but who had not shared their lives together.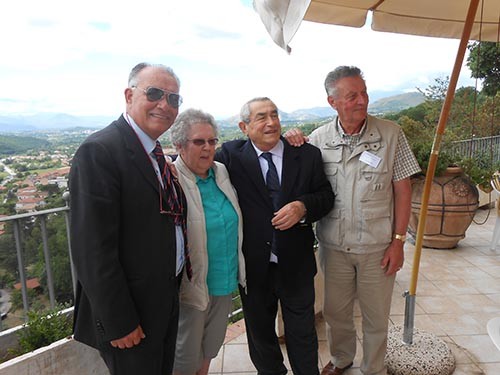 Steve – our highland piper – played some lovely music for those who were laying wreaths or crosses, his music being soothing to our thoughts of yester-year.
From the town of Cassino the coaches headed out to a spot on the Gari River where we stopped to look at the Freedom Bell, which was erected by the Allies in tribute to the Italians who gave their lives. We listened enthralled to a talk given by Perry Rowe (who has written several books on the Italian campaigns) then enjoyed a picnic lunch on the riverbank. It was a little further along this riverbank that Austin's father had been killed.
After lunch the coaches headed up to Montecassino Abbey – the BBC wanted to interview some of the veterans who were on the trip and recording was due to be undertaken here. Sadly the spots of rain turned into heavier rain, so it made the visit to the abbey rather hurried and very damp!
Back at the hotel, we dried out and came together for a lovely evening meal (being Friday it was fish for the first two courses!). Entertainment after dinner was courtesy of a talented accordion player, whose music enticed some up on to the dance floor. A young girl from the village, celebrating her birthday with friends, I think, encouraged even more of our party to get up and dance!
Saturday 17th May
Today saw us heading to San Pietro Infine, a village which was bombed by the U.S. 36th Division in December 1943, killing some of the villagers. After the war the village was eventually re-built, only to suffer again – from the effects of an earthquake, which toppled their church for a second time. The church was not re-built so remains in ruins, but the village is lovely and peaceful, nestling high up on a hillside. There is a small museum with a few artefacts recovered during restoration of the village. The museum shows a short video of footage taken during the war and there is an American jeep parked on the sun terrace of the lovely hotel which is adjacent the museum. The hotel made us so very welcome and we spent a couple of hours there in beautiful sunshine enjoying their coffee and each-others company. The village mayor and councillor came and introduced himself to all the veterans, shaking hands and talking to each one of them and thanking them for the part they played in freeing Italy from the grip of German forces.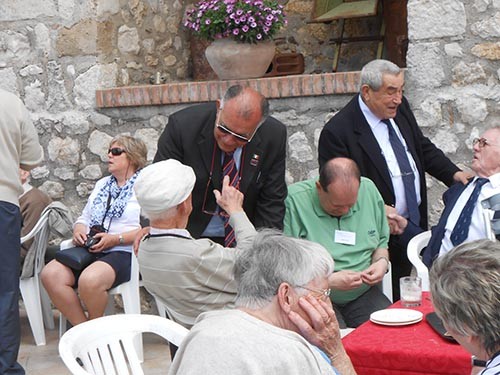 From San Pietro we boarded the coach and headed for a lunch stop. Then on to the Italian Cemetery and museum where Judith (MCS) laid a wreath. We were left free to explore, taking in the scenery and solemnity, as well as the artefacts and pictures of 70 years ago. Another rain shower cut the visit short so it meant returning to the hotel a little earlier, which gave a chance for a relaxing late-afternoon beer/tea/coffee and chat before our evening meal.
Sunday 18th May
The programme for today was a choice for the majority of the party – either a rest day, or coach trip to the Abruzzo National Park. Eight of us however, (including one of our veterans, Jim Morgan, Royal Corps of Signals – 4th Indian Division), would be attending the New Zealand 70thAnniversary service at the CWGCC (Commonwealth War Graves Commission Cemetery) in Cassino. I had specifically asked the Foreign & Commonwealth Office if I could lay a wreath on behalf of the Italy Star Association 1943-1945 during this service, and my request had been accepted.
Jim had been invited to sit alongside the New Zealand veterans in an area reserved for them. The scene was buzzing with excitement, as you might imagine, and when the powerful Maori singing began, we knew we were about to witness a very special service as the official party, with Prince Harry at the head of military and civic dignitaries, came through into the cemetery. With historic "bites" of text, poetry, Maori hymns and prayers as well as wreath laying, the service concluded with the Italian and New Zealand national anthems. The official party, including Prince Harry, walked to inspect the New Zealand headstones (456 New Zealanders are buried in the cemetery, 55 New Zealanders are listed on the Cassino memorial). There was more Maori singing and dancing with 'Poi' (they look like pom-poms on lengths of cord!) before the security team closed around Prince Harry and they left. It all seemed rather an anti-climax; however, I then went forward as the representative of the Italy Star Association 1943-1945 and laid a wreath at the cross of sacrifice, Judith laid hers on behalf of the Monte Cassino Society.
I met up with Doug Waugh (Chairman of North Kent ISA) and Robin Hollamby – who had attended the service, but with a party from the Not Forgotten Association. After taking a few photos of the tributes which had been laid, we found our way back to the cars and headed to the hotel for a well-earned glass of wine, dinner, and an early night. We were full of expectancy for the British service taking place tomorrow! Our big day was imminent!
Monday 19th May
An early alarm call at 5am heralded the day. Judith (MCS) our pilgrimage organiser, had worked so hard – liaising with the Foreign & Commonwealth office and others, both in Italy and England, to bring together representatives of various allied countries who fought, particularly at the Cassino battles, the last of which ended with an Allied victory on 18th May 1944. Due to other countries organising similar services it had not been possible to hold our service on the specific date itself.
The coaches collected us at 7.30am and we began the two-hour journey to Cassino. We alighted outside the cemetery and found either good vantage points, or seats, dependent on whether you were participating in, or watching the service. Judith and I, and two veterans from our party, had been allocated seats close to the steps at the foot of the cross of sacrifice as we were laying wreaths during the service. Grahame and Mike were once again on standard duty and had the privilege of leading the official party with Prince Harry, up through the cemetery toward the cross of sacrifice ready for the service. There were hymns, readings and music (provided by the band of the Royal Logistics Corp) leading to the Exhortation, read by Theo Davies (a veteran with our party) and veteran of 6th Battalion, The Queens Own Royal West Kents. Laying of the wreaths followed led by His Royal Highness Prince Henry of Wales. Judith accompanied by Garth and I accompanied by Alex, laid wreaths on behalf of our own Associations. After a further hymn the service ended with the national anthems of Britain and Italy.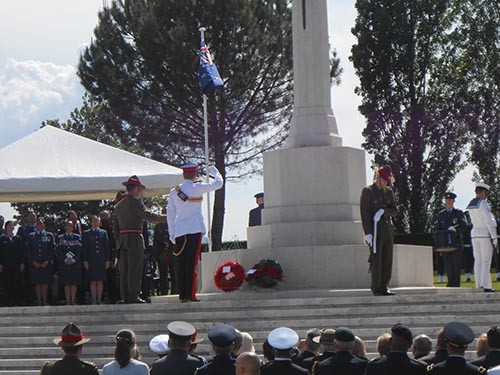 Our party as a whole, had been invited (along with other organisations and visiting dignitaries) to a reception hosted by Britain's Ambassador in Italy, Christopher Prentice, in the presence of His Royal Highness Prince Henry of Wales being held in the gardens of The Hotel Rocca in Cassino. The setting was beautiful – landscaped gardens with water features; marquees with tables of food and wine! A marquee had been set aside where veterans, widows and representatives of associations were to meet and speak with Prince Harry. As you can imagine there was huge excitement and anticipation as we waited for his arrival – then with a flourish of security guards he was among us! Judith and I were quite near the end of the line, so our anxiousness was really high as we watched him deep in conversation with so many of the veterans and veterans' widows. There seemed to be no rush and his keenness to let each person take as long as they needed to pass on their stories of involvement in the Italian campaigns was very obvious; his ability to engage each person and make them feel so special was palpable. And then it was my turn – alongside Judith! I gave a brief explanation that as a daughter of an Italy Star veteran (my late father), I have become National Chairman through his founding of the Italy Star Association 1943-1945, 27 years ago. I outlined the Association aims to bring together comrades of the campaigns; offering support and companionship to veteran families. I was also able to stress my desire to have greater recognition in the public domain of the battles, terrible loss of life and courage that participants and veterans have lived through and with, and my hope that they should be acknowledged as the first Allied troops in Europe. They had been fighting and dying for many months, prior to the D-Day landings, having landed in Italy in 1943. Prince Harry responded with his acknowledgement of this fact and following on from our conversation, I certainly felt that at last our voices might have been heard! I handed him a pennant on behalf of the Italy Star Association 1943-1945 which he happily accepted. And then he was gone!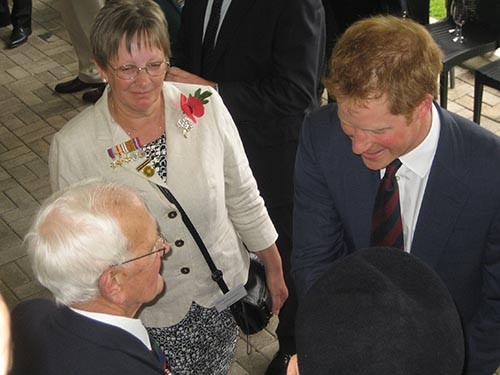 Prince Harry was charming and most definitely the right person to have been alongside our veterans on this special anniversary commemoration.
Our talk turned to how each one of us had enjoyed our few minutes with Prince Harry – collectively we all felt blessed to meet him and we believe that the profile of the Italian campaign veterans will be raised through Prince Harry having been with us. None of us seemed in too much hurry to leave the marquee, but we realised that our veterans in particular would be exhausted after such an early start to the day – so we found our way back to the coaches, and then back to the hotel and our evening meal at which we toasted our veterans for such a lovely, lovely day!
Tuesday 20th May
Today's visit was scheduled as the Sangro River War Cemetery and Judith had planned to hold a small service there. I was asked to lead the service – a task which I happily accepted. On arrival, we were welcomed by the Lady Mayoress and local officials with their colourful pennants fluttering in the breeze. We had not expected this reception, but it was lovely to feel that our visit, to pay tribute to the fallen, was reciprocated by the Italians too. Steve "piped" us as we walked through to the cross of sacrifice where we held a brief service, then laid our tributes. After group photos, including the Mayoress and her officials, we spent time wandering among the headstones, some to lay tributes to those they knew of; several had memories of family loss.
This cemetery, as well as the others we had visited, is immaculately tended. It looked so lovely in the bright sunlight, with amazing views across lush landscape – such a far cry from 70 years ago.
Once back on the coaches, we had a very short ride to a picnic spot in the National Park where we ate our packed lunches. An Italian historian gave us a brief talk about the research he was carrying out relating to the campaign during the Second World War, with particular reference to the part played by the Parachute Regiment. Two of our party of veterans are members of that regiment, so it was a real journey of memory for them to be back where they had jumped out of the planes and landed 70 years ago!
The two hour trip back to the hotel, took us through stunning landscapes – on viaducts, down the sides of mountains and across reservoirs – just beautiful!
We arrived back, just with time to change for dinner, following which we were entertained again by the talented accordionist.
Wednesday 21st May
I had been told stories by several members of our party about the service which we had scheduled for today, so was looking forward to it very much. We were off to the village of Picinisco – another mountainside village which had suffered loss during WWII. Not only was the village bombed and raided by the German forces, but for 19 villagers who were trying to leave Italy and start a new life in Canada, tragedy struck. Whilst they were on a ship crossing the Atlantic a U-boat attacked and the ship was sunk. Each year the village remembers the tragedy and with our party visiting them today, we were to be included in the service. The village school takes part as a whole and the service begins with the children carrying a huge silk Italian flag up to the memorial, where the Mayor and officers (one of whom Flavio had been our coach driver for the past week) were assembled. The children then read out the story of the tragedy both in Italian and English, so that we could understand it. There were 19 tolls on the bell, one for each life, and their names were read out. The Mayor, Judith and I laid our tributes at the memorial and after the national anthems of Britain and Italy, the children retrieved the silk flag and paraded out, back down to their school. It was a very touching service, one I shall not forget.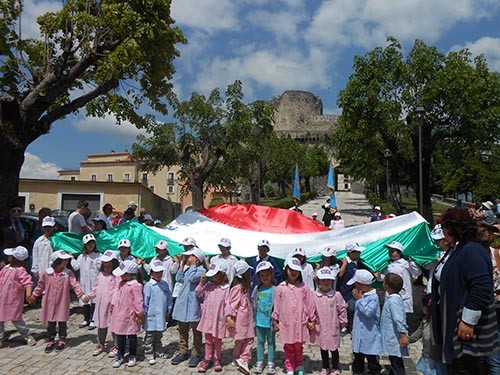 The Mayor had laid-on a wonderful buffet back down in the village square and so we were able to spend time together, once again looking out on the most stunning scenery and trying very hard to visualise how it would have looked 70 years ago, during the conflict.
The coaches headed back to the hotel from Picinisco – there are no short-cuts for two large coaches, so each journey takes a good while!
Today's visit completed the week's trip – and so all that was left, was to spend some time packing ready for our fairly early start back to the airports in the morning. Dinner was a much talked about affair, with plenty of fish on offer. After dinner speeches, votes of thanks and a final goodnight to friends old and new, as we headed to bed.
I would like to note my grateful thanks and I am sure those of everyone who travelled with us, to Judith and her team for organising such a memorable trip. Bellisimo!!