Bryan Woolnough Memoirs . Vis, Yugoslavia – 1944
---
---
Bryan Woolnough Memoirs
Vis, Yugoslavia – 1944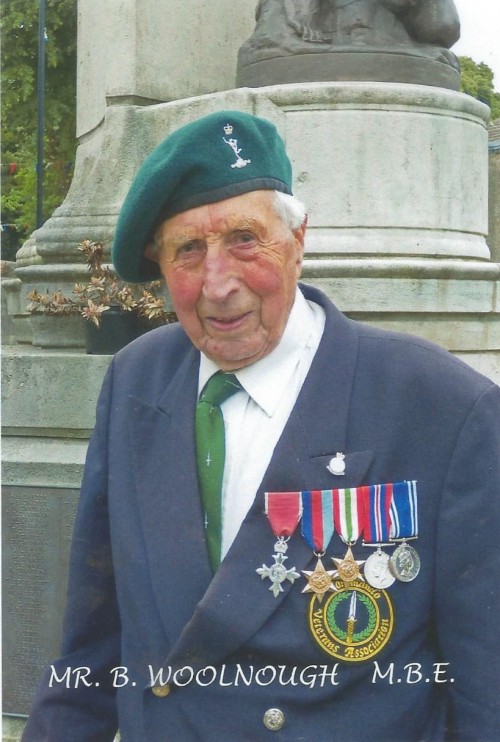 In February, 1944 I was one of the Commando Brigade that was attached to LFA's [Land Force Adriatic] task force that was being established on the Dalmatian island of Vis in the Adriatic Sea. Vis was among a group of islands off the Yugoslav coast between Split and Dubrovnik. The island was the nearest to the Italian mainland and was about eighteen miles by eight miles. The force was sent to aid Tito's partisans who, having been a thorn in the side of the Germans with their sabotage and ambushes, had been forced off the mainland onto these islands. The Germans subsequently drove them off the islands. We were of the opinion that as the German troops entered the respective island the partisans withdrew to the next – not surprising as the partisans did not have the resources or ability for open battle. The net result was that they were now on the last island, Vis, and were next to be attacked with nowhere to go. Their request for help resulted in the task force.
The island was turned first into a defensive fortress, a small air strip was established with a few fighter planes, anti-aircraft units and a general buildup of men and equipment. Our role was soon apparent as we started a continual campaign of raiding the German garrisons and taking many prisoners. I was on raid after raid often returning to the same island after the Germans had renewed the garrison. I can remember these islands as if it were yesterday; SoIta, Hvar, Brae, Karcula and Miljet. Partisans often came with our raiding parties but our relationship with them was very frail. They obviously needed us but did not trust us. They had many political officers amongst them and, if you were ever in a friendly conversation with an English speaking partisan, one of these officers would come up and whatever was said the individual would go off with him and never returned for a chat.
The raids were always a set pattern; move out in our assault craft in the evening, land after midnight in the early hours, get in position for the objective and wait for dawn and first light. Our attack was usually about 6a.m. and at times would be preceded by our fighter planes or a naval gunboat softening up the target before we went in. The raid was soon over and we would be back to Vis the following evening. So many raids were carried out that our signals section was often stretched. I recall coming back from one raid in the evening and as our party was getting out of our boats me and my fellow operator were met by our sergeant and told that he was sorry but we would have to go again with another raiding party that was boarding their boats. We just had time to tune our sets, a short briefing and a cup of tea and we were off again.
One particular raided is always in my mind. The partisans kept bothering the garrison commander to carry out a raid on their own. They eventually won the day and it was agreed. However, they needed our radio communications to keep in touch with the HQ on Vis so it was decided to send us with our sets and do the operating and passing the mike to the partisan to speak to his colleague or HQ. To do this handover we referred to them as "put Felix on the air" and the handover was made. Goodness knows what they chatted about. We had a separate briefing and we were taken aside and told that if things went wrong or got out of hand we were to break away, and as we controlled the radio, make our way to any beach and arrange our pickup. The partisans weren't aware of this and fortunately it never came to it. Our party consisted of a junior officer, a sergeant and a few men making us a party often. I wasn't too happy with this raid (I'm sure it was on Miljet), as their boatswere odd fishing boats and a mixture of various wooden crafts. I had got used to proper landing craft with a modicum of protection if under fire. I was glad to get back to base.
The Germans eventually got fed up with what was happening and one evening saw the start of their retaliation. We were just laying around relaxing when bombers from the mainland suddenly appeared and hammered us. We fled out of the houses we were in, racing for the hills being machine gunned the whole way. One of our colleagues was killed, Burt Jay [now buried in Belgrade war cemetery], another lost a hand and another received a head wound. He stayed with us being only walking wounded. After
that every evening we took bed rolls and a snack and spent the night in the hills. The bombers made several returns but just bombed the two towns, Komiya, at our end of the island, and Vis at the other end. We felt very safe in the hills and used to watch the raids in progress thanking our stars on taking the action we did.
On June 1 st a large raid was carried out on the island of Brae, this was the largest of the islands and nearest the mainland. It was the first time I had been on a raid to Brae and it turned out to be one of our least successful actions. It was also an occasion in which I was very fortunate at another's expense. Our landing, as usual, was unopposed and there was a steep climb from the landing beach to the hilltop where an HQ was established. I was put on to the control set with my fellow partner. We also had a RAF signaler talking to Hurricanes supporting the raid. It was just as well as shortly after setting up the HQ we noticed a plane peeling off in our direction, and not until we noticed he was firing at us did we realize that we were mistaken for Germans. Luckily the RAF signaler stopped him before we were really in trouble. During the action a Staff officer, Captain Wakefield, came to our HQ requesting a radio and operator to accompany him. I got a set and tuned it into the control and at that stage was going with the officer. Our sergeant in charge of the HQ control stopped me, saying he couldn't operate the control set with too few men. He then spotted an infantry signaler who was bringing up supplies from the beach to the HQ position and got him to take the set from me and go with the officer. Unfortunately, both captain Wakefield and this signaler were killed and this could have easily been me. The raid cost us many casualties and two senior officers, Colonel Manners 40 Commando was killed and Colonel Churchill 2 Commando was captured.
As well as the Dalmatian island raids LF A involved the brigade in raids along the Albanian coast and into Greece. In July I was attached to 2 Commando for a raid at Himara on the Albanian coast to assist Albanian partisans. We had a quiet night landing and then a long steep climb, just following guides. When dawn broke we found our small party overlooked the German position to be attacked. We had a soft time just relaying information as to shell and mortar fire landing positions. Our only danger would have been if a German patrol came across us but that never occurred.
The brigades next large raid, working under LF A, was at Sarande on the Albanian/Greek border opposite the island of Corfu. After preparations and briefings in September, 1944 we embarked on a planned 36-hour raid. This was a combined Partisan and Allied troops action. The action proved anything but a short raid as intended as after our usual night landing there was a change of plans and arrangements made for a larger force to join our raiding group. A much stronger German garrison was at Sarande and necessitated a more serious battle plan. We therefore relaxed to await the reinforcements. During this period the Germans had wind of our position and self-propelled artillery tried to target us. The shells nearly all fell in the sea as our beach position was rather inaccessible to them. Unfortunately, during the two weeks waiting for other troops the weather changed and the heavy rain caused considerable hardship. Going on a raid for a short period there was no need to take any change of clothes, washing needs etc. and we were soon like castaways. We had no protection from the rain or shelter of any kind. Conditions caused problems with the men, the sodden state created many cases of trench foot and many had to be evacuated to the Italian mainland. Supplies, more men and equipment started to be brought in which eased our problems. The ships could only come in under cover of darkness as coastal batteries were on Corfu. This meant unloading supplies in the dark onto the beach and at first light we often found lots of equipment etc. in the sea due to the tide. Gradually we returned to a fit state and the action got underway.
Two LCGs [landing craft guns], each fitted with two 4.7″ naval guns were driven onto the beach when action got us moving to take Saran de. The German troops at Sarande had increased due to them pulling men out of Greece, presumably planning to return to Germany. The combined Partisan and Allied force was able to take the town although there was a hold up. During the action the Albanian and Greek partisans fell out over some issue and started fighting each other. Mediators sorted out the problem and the action continued against our common enemy.
When the town fell the GermanlItalian garrison on Corfu sent over a delegation that resulted in the garrison surrendering without a shot fired. They were pleased to do so to British troops aware that they were going to be the POW s. The island partisans felt they should have reprisals but arrangements were soon under way to ship the garrison to the Italian mainland. A long period was spent in Corfu, more in a policing role, as there were two opposing partisan groups at loggerheads and it was necessary to disarm them, by persuasion, and back to a normal civil life. It was well into November / December before we left Corfu for Italy to prepare for the closing stages of the Italian campaign. So much for our 36-hour raid that started on 21122 September!
Bryan Woolnough MBE, 2 Commando Brigade Signals