Fred Mason meets Garry Lineker
---
---
Some weeks ago, BBC radio contacted me to ask if I would like to take part in a programme they were making about the Second World War. I agreed, and a gentleman came to interview me at home, which was recorded and subsequently broadcast on Radio 4. Later on, BBC television contacted me and asked whether I would be prepared to do something similar in Italy and of course, I readily agreed.
A little while later, two ladies from a film company in London, the director and producer of the programme, visited me at home to discuss my wartime experiences. We discussed the schedule of proposed events and I discovered that they wanted me to visit Italy, and once there, I was to be interviewed by none other than Gary Lineker! How could I refuse? Gary also interviewed another veteran in Italy prior to my arrival, and other veterans were interviewed back in the UK, to gather a variety of information.
When the time came, I was taken by car to my son's home in Berkshire, who was accompanying me as a carer. Later, we were taken to Gatwick and flew to Naples on August 22nd . We were driven to a lovely hotel in Cassino, which was familiar to me, as I had enjoyed stays there several times before.
The weather was so hot that we couldn't bear to venture outside. Early the following morning, when thankfully it was somewhat cooler, we left the hotel to drive out of Cassino up a steep, narrow, twisty road which was full of potholes to reach the Polish War Memorial, our filming venue. I climbed about 40 steps to reach the impressive, tall stone memorial where Gary greeted me. The film and sound crew were already busily setting up the equipment ready for the shoot to begin. The temperatures were also starting to climb up the scale.The filming had to be completed quickly because the crew had flights booked in the afternoon to fly back to UK and Gary needed to be back to do Match of the Day.
The filming sight was spectacularly situated. We sat near the edge of a wooded steep drop from where I could see for miles across the wide valley floor towards the imposing mountains beyond. Gary welcomed me warmly, he was very friendly, interesting and with a good sense of humour. He was easy to talk to and made me feel comfortable about revealing my personal wartime experiences. He explained that he wanted to particularly gain a greater understanding of the war in Italy because his grandfather served there as a member of the Royal Army Medical Corps.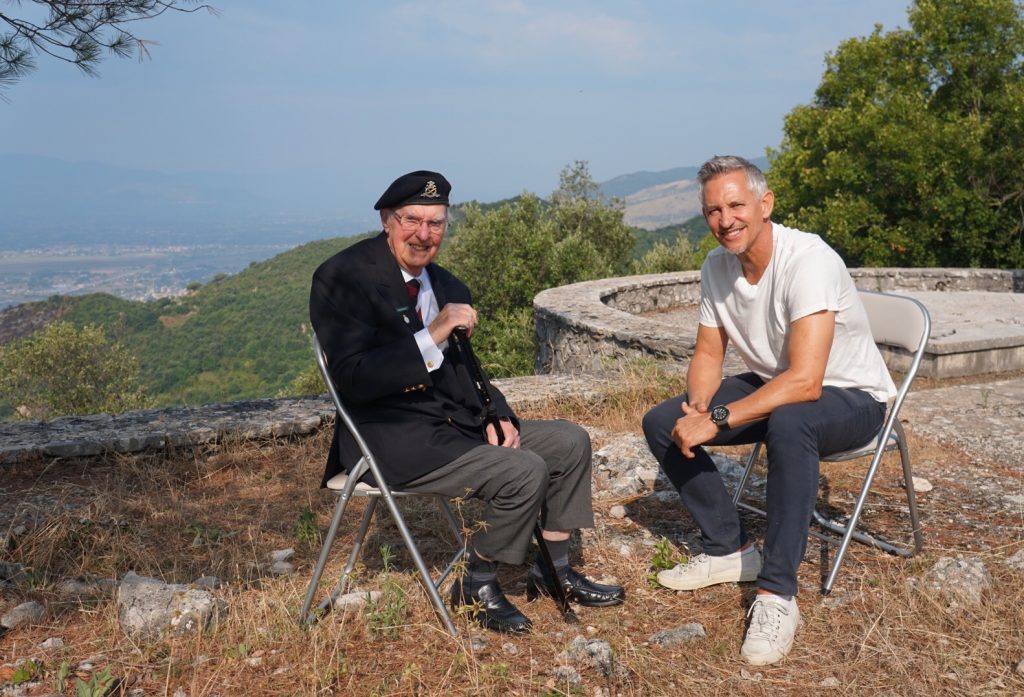 We discussed my army training in England prior to my despatch via Naples to Anzio, where I fought in the war, what life was like on the front line, how I felt during the skirmishes, my experiences in hospital suffering from malaria etc. We also talked about general topics such as football. The film and sound crew, were very professional, friendly and helpful and looked after me well, providing welcome shade in between takes as the temperatures rose.
During the interview, we enjoyed a few smiles when filming was punctuated a couple of times, by the sound of the Monte Cassino Abbey bells ringing nearby.

Once filming finished my son and I had an opportunity to take photos with Gary and the crew. Gary was gracious enough to sign a photo for my great-grandson of him celebrating the equalising goal in the 1990 World Cup match in Italy between England and Germany. We enjoyed a drink and a chat with him back at the hotel along with the director and producer before they had to leave for the airport. My son and I enjoyed another night in Cassino before returning home. It was a great experience for my son Robert and I to share, I would not have missed it for the world. Although it was very tiring for me, I felt proud to have been given the opportunity to record my wartime experiences. At my age, I feel that it's very important to remember the sacrifices made by so many during the war. The experience was something I will never forget. At the time of writing this article the programme has not been on TV and so I don't know how much of my interview will be shown, but hopefully it wasn't all left on the cutting room floor! The programme was called Gary Lineker: My Grandad's Untold War and was shown on BBC 1 on November 11th.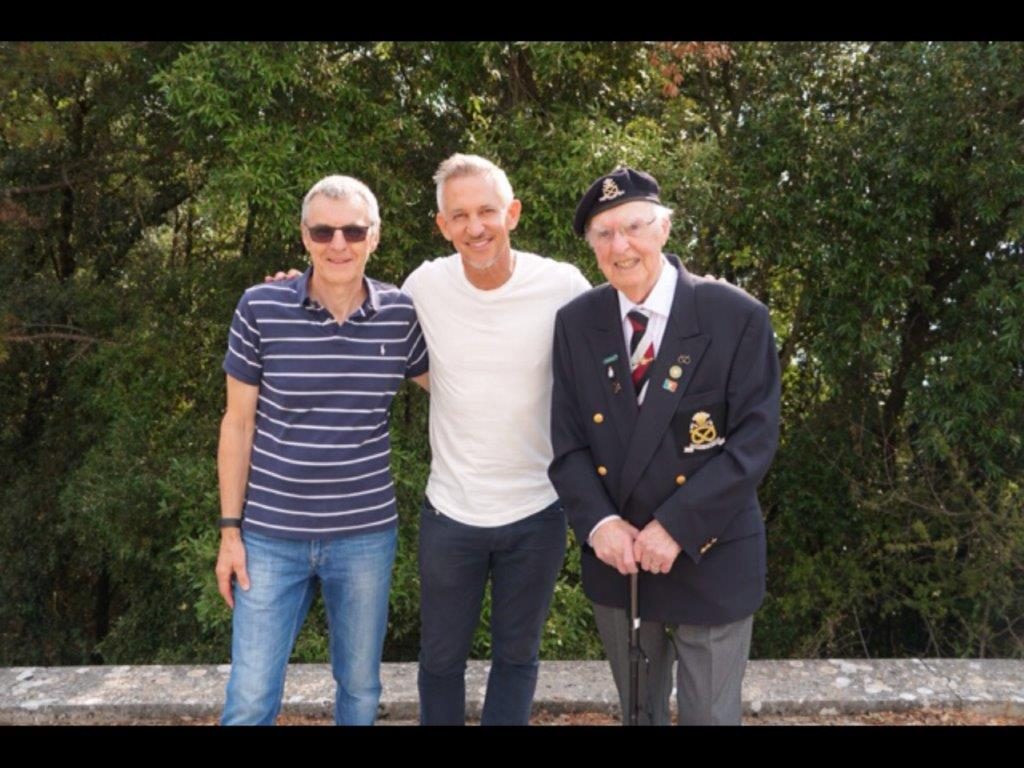 Fred Mason
Editors Note.
On 11th November at 9.pm BBC 1 aired a documentary entitled "My Grandad's Untold War." In which Gary Lineker was following in the footstep of his Grandad who was in Italy during the WW2 and it featured the battles of Salerno and Monte Cassino. It also featured interviews with some of our veterans, amongst them was Fred Mason who went out to Italy be interviewed by Gary at Monte Cassino. The Italy Star Association received a request from the production company to contact veterans who were in certain areas at a particular time. After consultation with several veteran members who put them self's forward they were contacted by the production company.
This programme was not commissioned nor made by The Italy Star Association. The above information about the programme was posted so our website visitors were made aware of the date and time it was broadcast. Thus enabling as many people as possible who have an interest in the Italian campaign to watch the programme. The Italy Star Association accepts no responsibility for its content and any inaccuracies that it contained. If you feel the need to comment about the inaccuracies contained within the programme they should be taken up with the BBC or the production company.