George William Beale – Grenadier Guards
---
---
George William Beale – Grenadier Guardsman
(14 November 1913 – killed in action on Monte Camino 9th November 1943)
George was born in Bermondsey in London on 14th November 1913. He was the youngest son of Joseph and Charlotte Beale. He had an elder sister, Dorothy and a brother Joseph. Sadly both parents died in January 1916 leaving George and his siblings as orphans. All three went to an orphanage on the outskirts of London where they were split up; George was just 3 years old. George left the orphanage in 1929 at the age of 15 to work as a grocers' boy. Later he trained as manager for a supermarket chain until 1940. He then volunteered to join the army when World War II broke out, with the Grenadier Guards at Chelsea Barracks in October 1940. On completion of his basic training he was drafted into the newly formed 6th Battalion Grenadier Guards. Further training enabled him to become a radio operator/driver.
The 6th Battalion left for overseas duty in 1942, visiting South Africa and then Syria. Eventually the battalion was ordered to link up with the 8th Army (Desert Rats) fighting in North Africa at a place called the Mareth Line. This was their first battle during which, the battalion suffered very heavy losses. George however survived and went on to fight in other areas until the war in North Africa was over. On 9th September 1943 they landed at Salerno encountering bitter fighting until the enemy was pushed back. Once again 6th Battalion suffered heavy losses and new intakes arrived to replace troops that were lost. The war moved on, up through Italy, with 6th Battalion fighting at Rocchetta e Croce (George's company, No. 2 Company) captured the heavily defended hill. They then moved on through Teano and Roccamonfina until they reached the next objective, Monte Camino.
The whole battalion rested on the escarpment overlooking Monte Camino in an area called Chestnut Wood prior to orders to attack the mountain on 5th November. 6th Battalion joined with 3rd Battalion Coldstream Guards and 2nd Battalion Scots Guards to be a part of 201st Guards Brigade.
The battle plan was for the Coldstream Guards to attack Calabritto from Mieli which would clear the way for the Grenadiers to attack the Mountain, with the Scots Guards in reserve. The battle went wrong from the start due to the Coldstreams being held up by mines and machine gun fire. This in turn held up the Grenadiers attack. The commanding officer deciding to attack, led his men through the raging battle, climbing the mountain (called Bare Back Ridge) under shell and machine gun fire as well as freezing rain. It took nearly 8 hours for the first men of 6th Battalion to reach the ridge. Here they came under enemy fire.
No. 1 Company were situated just below the ridge (Point 727), No. 4 Company were situated on top of the ridge. No. 3 Company were situated below No. 2 Company in an area called Grenadier Wood. No. 2 Company were on a small hill (Point 819). On the second day No. 3 Company were over-run by the enemy, some men were killed and the rest captured. This left No. 2 Company cut off. With deteriorating weather and continuous fighting with the enemy severely lessened the fighting force of No. 2 Company. This small band of men held out for five days and nights until they were relieved. Those who were left made their own way down the mountain to sleep in the caves in Mieli or a large empty house.
George Beale was killed in action on 9th November 1943, having fought with his comrades, eight major counter attacks from the enemy. The survivors of this were relieved two days later but had to leave their comrades on the mountain where they fell. A month later, the second attack of Monte Camino began with a bombardment of shells landing on selected targets for a period of 24 hours. Those who had been left on the mountain were obliterated by the shells, which means that George and his comrades have no known grave. All their names are inscribed on the large plinth in the Cassino British War Cemetery.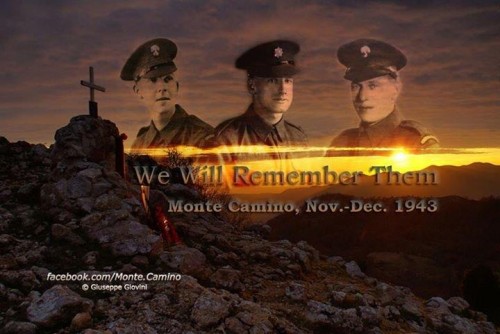 George William Beale is shown on the right of the photo above.
Story written by Michael Sterling, (George's nephew) and Michael has given permission for the Italy Star Association 1943-1945 to publish it. Michael visits Monte Camino each year to pay his respects.