Field of Remembrance, Westminster Abbey. Thursday 5th November 2015
---
---
Field of Remembrance, Westminster Abbey
Thursday 5th November 2015
The area around Westminster Abbey was, as ever, brim-full and buzzing with veterans of all ages – in many different dress uniforms and from conflicts all over the world, together with their families and supporters.
Our Association plot was in its usual position along the west side of the Abbey.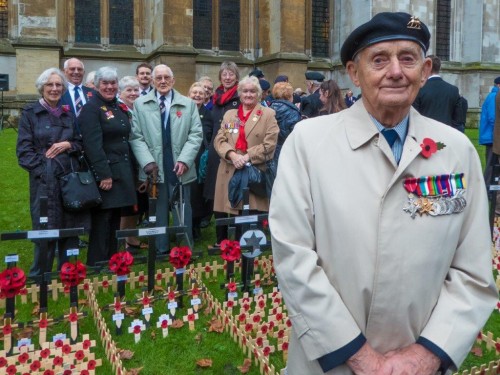 Colonel David Blum was our "front line" representative and he enjoyed conversations with a number of passers-by, including HRH Duke of Edinburgh (who himself is an Italy Star holder). Tom Gatford was our other veteran – he came supported by daughters and grandson. Our total party was 13.
The simple service consisted of prayers for the fallen, exhortation, playing of the Last Post followed by Princes Philip and Harry laying their personal tributes. The Princes and officials from RBL and the Abbey then walked through the rows of poppies to meet and greet as many of the attendees as possible.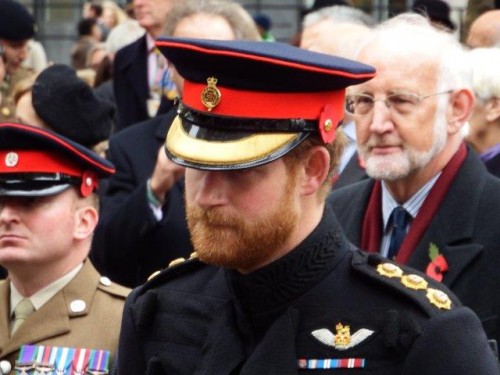 Personally, I thought it very fitting that the Duke of Edinburgh spoke with Colonel Blum – just a pity they didn't have longer to swap stories! I am informed by Colonel Blum that on saying to His Royal Highness that he represented the D-Day Dodgers, his reply was "you did have it rough".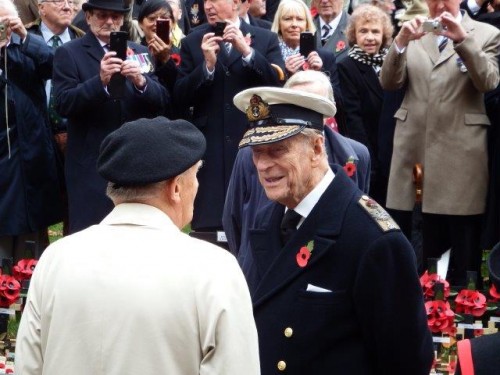 Many thanks to all who came to support the Association at this event and honour our fallen – I hope those who were unable to come, felt that we were representing them too.
Mary Tidy
National Chairman