Italy Star Association's re-dedication service at the National Memorial Arboretum, Alrewas. Friday 9th September 2016
---
---
Italy Star Association's re-dedication service National Memorial Arboretum Friday 9th September 2016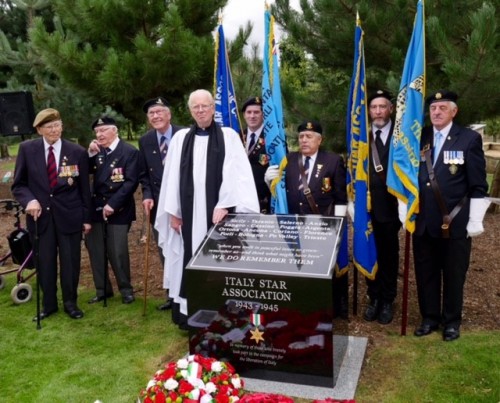 9th September, the anniversary of allied troops landing in Salerno, makes this a significant date for Italy Star veterans and their families, as well as followers of the campaign battles in Italy during WWII.
So it was, that we chose this particular date to re-dedicate the Association's new memorial, which is within the NMA. The original memorial was erected in 2001 but suffered badly from the elements, to the extent that the plaques became unreadable and certainly didn't look a fitting tribute to our veterans.
I had been nervously excited since being informed by the stonemason the previous week, that the old memorial had been dismantled and the new one installed and put under wraps, ready for the big day.
We were delighted that Nicholas Frayling, Dean Emeritus of Chichester, who is an honorary member of the ISA, kindly agreed to prepare an order of service and travel up to lead the service.
Our treasurer, Maureen, had organised a coach to bring sixteen attendees from various parts of the south and south east. Three members of North of Scotland branch drove down and it was also lovely to see veterans and members from different parts of the country, many of whom we hadn't seen for quite a while. In all, around sixty gathered together for the service, on a warm sunny September morning.
Nicholas, during his address, after the bible reading from Philippians Chapter 2, drew an analogy of the veterans 'code of conduct' during the war, likening it to Christ's example to us.
"Do nothing from selfish ambition or conceit, but in humility, regard others as better than yourselves. Let each of you look not to your own interests but to the interests of others. "
Their comradeship with one another and unswerving loyalty amongst the ranks can be paralleled to those verses. I believe that any of us who have the honour of knowing a veteran, can wholeheartedly agree with the sentiment in these words.
It was a very proud moment for me then to unveil the new memorial, after which Nicholas gave the dedication.
During the act of remembrance Edward Wighton piped a lament and awakening, either side of the silence. Wreaths were laid, prayers and blessing said and the service ended with the National Anthem.
There were a number of people among our party who had not visited the Arboretum before, so with the day being warm and dry, rides on the road train (which had commentary on board), or walks in the grounds took place. Refreshments were taken in the cafe – then the farewells began.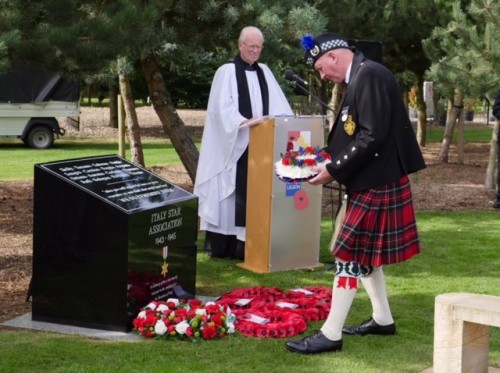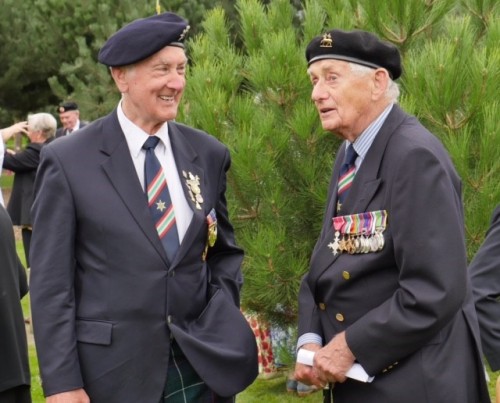 From my viewpoint, it had been a wonderfully memorable day. I was overjoyed that we had such a good number of veterans with us. Having twelve standards (including that of the Monte Cassino Society and several branches of the RBL) added spectacle to the service.
I wish to thank everyone who helped in organising the day, all those who contributed to the appeal and of course, all who attended on the day. I hope that others reading this, who were unable to be with us, might be able to visit the Arboretum and see the memorial in situ. Credit must also be given to the stonemasons, H L Perfitt of Diss in Norfolk, for creating such a fitting memorial. They were so professional and understanding of our needs.
Mary Jux, National Chairman