Drop Zone 'Morris'
---
---
Anne Storm has recently returned from Italy where she visited the site of the memorial to the Crew of Liberator KH158.
The plane was on a routine supply drop mission to the resistance forces operation in the Ligurian mountains it disappeared on 12th October 1944, all of the crew are recorded as 'Missing in Action'.
Anne's father was Flight Officer T R Millar RAAF, he was Leading Bomb Aimer of 31 Squadron SAAF.
Anne writes:
Two nephews of WIO LB Bloch SAAF contacted me in the hope of visiting, with their wives. a memorial plaque, for the crew of 31 SAAF Liberator KH158 which we placed, in 2011, on a round house wall in the grounds of an old partisan house "Faggio Rotondo", high up in the Ligurian mountains, via the village of Neirone [GE].
On Wednesday 14th September, together with Italian friends we were all driven up a tortuous track in 2 Jeeps, needed to cope with the very rough driving conditions.
The owners of Faggio Rotondo, who are looking after the plaque, made us welcome with homemade pizza, wine and coffee taken outside in the grounds where wild boar roam.
They hold a festival there in the summer and a mountain hiking trail goes through the area. Now Bloch's nephews have seen where their uncle is remembered, an emotional experience.
Plane and crew are still "Missing in Action" -so far not found.
Photos show;  looking down to Neirone. Plus, position of Faggio Rotondo [biro-ed in rectangle above & east of Neirone], and the plaque.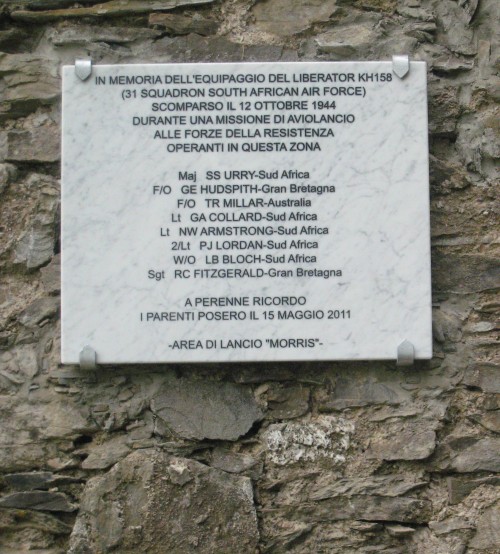 ENGLISH TRANSLATION of the PLAQUE
In Memory of the Crew of Liberator KH158
31 Squadron SAAF
Disappeared on 12th October 1944.
During a supply drop Mission to Resistance forces operating in this area.
Lest we forget.
Relatives laid this Plaque on 15th May 2011.
Drop Zone "Morris"