Monte Camino – The First Battle, 5th November 1943
---
---
Monte Camino – The first battle, November 5th 1943
This account of the battle was written 18 Months after the event by Lt C M Wheatley, Platoon Commander, No. 2 Coy Grenadier Guards. He was 19 years old at the time of the battle.
At 10.00 hrs on the 5th of November 1943 the Battalion advance party formed up outside Battalion H.Q. in readiness to move to Chestnut Hill. By lunch time we were nearing our objective and were met by Brigade Staff and also the advance parties of the other Battalions.
After eating our haversack rations we drove up to Chestnut Hill – a truly magnificent sight with its golden leaves reddened by the late afternoon sun, we turned off the road up a stony track, wide enough for a 15cwt and stopped outside a hut – the site for Bn H.Q. It was either side of this track that the Brigade was to be concentrated. We decided on our Company areas, marked them out with white tape, for the Battalion when they arrived later, then went to contact some machine gunners who had been sitting on Chestnut Hill watching Camino for the past few days. They told us little and gave a false impression of the simplicity of our task.
At last the Battalion arrived, it was bitterly cold and we prepared for the night with a greatcoat as blanket and a very prickly mattress of chestnut cones – obviously we were going to have an extraordinarily restful night. The night passed, breakfast as usual was inadequate, and washing operations equally cold. The first few hours after breakfast were spent watching Brigade, Divisional and Corps Commanders spying out the land so much, which is always a bad sign and this was no exception. Commanding Officers 'O' group took place half way through the morning about 200 yards along the track, all Officers attended this. Platoon Commanders were as usual, in excellent heart and being frightfully funny, but beneath their bluff they knew a blood-bath was imminent, there is no better judge – it must be intuition.
Company Commanders spent half an hour giving orders and another quarter of an hour studying the mountain.
2 and 3 Companies R.V. Dip and continue up abreast
2 Company objective peak on the right (Point 819)
3 Company wooded patch on left (Grenadier Wood)
4 Company at top of Mule Track and 'Barearse' (Point 727)
1 Company in reserve.
Coldstreams will clear Calabritto and foothills before our attack. There was also talk of our battle patrol having a look up the Mule Track but I don't believe it came to anything. (A patrol from the 168th Brigade's leading Battalion 1st London Irish Rifles reported that the Mule Track leading up a corrie was blocked, this was indeed false but the Grenadiers had no time to check it and decided on the difficult route up, 'Barearse'). Thus the orders were given, adequate and efficient, a well laid on Battalion attack, the Brigade intention seemed satisfactory but where was the rest of our Division? What would happen when would we take our objectives? What was all this talk about the Americans securing the ridge on our right by evening? (Monte la Difensa) Have the Americans ever worked successfully on a time schedule?
The orders were duly passed on to Platoons and the rest of the day was spent in preparing for battle. David Fyfe-Jamieson, Scots Guards came to see me after lunch and he assured me in no uncertain manner that we had 'had it'. Grenades were cleaned and checked – likewise Bren and Tommy guns, ammunition was issued, haversack rations were drawn, 48 hour rations dished out. Free chocolate and cigarettes distributed, jerseys and other oddments were wrapped up in gas capes, more studying of the Company objectives ensued. Tiffin – the imaginary issue of inedible items – passed as usual unnoticed, and the time had come to seriously think of dressing for battle. The last letters were hurriedly finished off, the brew swallowed and the companies moved off down the forward slope of Chestnut Hill to a pre-defined spot where they were to await the word to move on. A hot meal was brought up by the Pay Sgt's just before nightfall – for many the last meal of their lives, for the rest their last meal for 5 days.
Before continuing, it should be pointed out that Colonel Bill Kingsmill had been driven over a cliff in his jeep during the day. Although not badly hurt, he was not allowed to Command the Battalion for this operation and the Command passed to Hugh Cholmely. As darkness set in we watched the stonking of the foothills and plain for the Coldstreams. Camino itself was stonked – it was fascinating to watch the rings of fire on the mountainside, we heard the Coldstreams attacking, there was a good deal of firing and the dull thud of mines going off. They must have had a hard time getting their objectives – it was a ghastly mine field to get through. 2 and 3 companies were on the road waiting to go forward, word went round that the Coldstreams had been unsuccessful and that we would be unable to attack that night – we waited a long time. Hugh Cholmely then appeared on the scene and led the Companies down to the plain. He had the whole Battalion in single file up to the foot hills of Camino, we met several Coldstreams on the way and drew various conclusions from the fact that a certain word kept reoccurring in their conversations. 2 and 3 companies lead on up the dip – the battle was on!
Battle order, plus 48 hour rations, carrying great coats, pouches bulging with ammunition and carrying a vast quota of 2" mortar ammunition – that was the order. No 2 and 3 companies left their great coats at the dip. It looked all very fine from Chestnut Hill, though it must have been soon after the dip that 3 company parted ways with 2 company. Lt Brian Henshaw led his Platoon up on the left of 2 Company and they continued up abreast. About 20.30 hrs we reached the foot of Camino and we didn't reach the top of Barearse until 05.30 hrs, roughly a 9½ hour climb. Barearse was as bare as any desert, no shrub nor vegetation, bare hard rock with crevices large enough to get your foot down, all set off at a considerable slope to the west. The climb would have been hard enough by day, but on a pitch dark night, it was darn near impossible.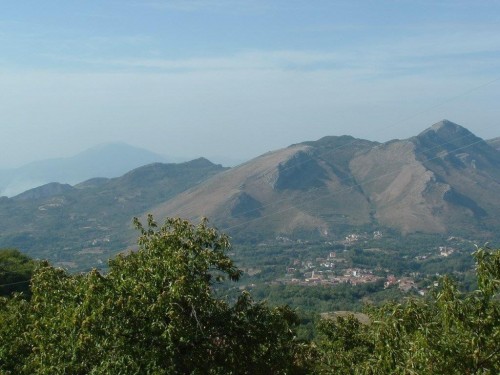 As dawn appeared over the dip the head of 3 Company was nearing the top of Barearse, the rest straggled out for about 750 yards. 2 and 3 Companies converged on to the top of Barearse where we met Ben Hervey-Bathurst who was conducting a grouse drive as a result of finding a couple of Germans in a sanger. As 3 Company came up to the top of Barearse they were fired on by three Germans just over the rise, several people fired back but they made a swift getaway. There was a shout for stretcher bearers on our left and we learnt to our dismay that Brian Henshaw had been badly wounded through the chest by a rifle shot. He was carried down the mountain but to everyone's deep regret, he died of his wounds at the bottom. It was a disaster that the first casualty on Camino should be him. By now, it was fairly light, I needn't reiterate the Commanders orders. Half the Company was up but the other half were still spread out down Barearse. At this crucial moment a number of Spandau's opened up from our right and pinned the rear part of 3 company to the ground. 2 Company was up the forward part of 3 Company and therefore sheltered from the fire, this party continued the advance together. I formed up what there was of 3 Company into a single file and lead on as for a grouse drive through the wood. 2 Company went through the rear part of our wood and continued up the hill (Point 819). All went well until they came over the summit, then everything in hell opened up. It was a wonderful example of wait till you see the whites of their eyes, and also Wellington's tactics of hiding behind the reverse slope, the fire was withering. Grenville Cholmondely was hit by a burst of Spandau in the chest, he fell back into the arms of his Platoon Sgt and died a few minutes later. He died as bravely as he had led his Platoon into battle, what a very sad day for his friends and what a great loss for the Regiment. In the meantime 3 Company had cleared the wood with no opposition and since I was the only Officer present, I sited the two Platoon positions, every one dug in as hard as they could. We could hear the battle ensuing on 2 Company hill, but little did we guess what was to follow. Ralph Howard came over to our hill and said the battle was going badly, hand to hand fighting was taking place, and he didn't reckon on more than a Platoon's worth were in one piece. The result was that I sent Sgt Young's Platoon to help 2 Company. That was the last any one saw of that Platoon, they were all either killed or taken prisoner, having put up a damn good fight. Rodney Wace came across to us having lost a couple of fingers and stopped something in the chest – likewise a few more wounded came back. Major Tommy Cook had by now arrived with us having left Jimmy Whatman at Company H.Q. in the rear part of the wood. He went across to see Ralph Howard who was on our side of 2 Company hill and it was there that the disaster happened. A Spandau firing up between the two hills mortally wounded Tommy in the back and Ralph in the leg, Ralph got back to us alright but Tommy Cook could not be moved without a stretcher, although Ralph had left him on a stretcher.
The whole of Company H.Q were casualties – 2 killed and 2 badly wounded, all by the same Spandau. Just at this crucial moment we saw Germans appearing over the top of 2 Company hill and the blitz on 3 Company was on, so it was that Tommy was left mortally wounded on 2 Company hill. At best, the Germans would take him prisoner otherwise, as did happen, he would die of his wounds – a terrible death for such a grand person. Darkness came and it was again possible to move more freely about the Platoon positions, although the position was still as tense as ever with the Germans only a few hundred yards away. Jimmy Whatman suddenly appeared from Company H.Q. where he had been left while Tommy Cook had come up to see us. Apparently a German patrol had taken the whole of Company H.Q prisoner and Jimmy had been caught with his trousers down – in more senses than one – it was this fact that had saved his bacon.
Soon after, we were informed that the Scots Guards were coming up to us with the intention of recapturing 2 Company hill and rations, ammunition and a stretcher party would also be with them, spirits rose at the thought of so many good things at once, but it was not to be. The order was cancelled as it was thought that the position of 2 and 3 Companies were too far gone and not worth the risk. However, as in such cases, the order never reached F Company Scots Guards and they started their hazardous climb to assist 2 Company. A strength return of 2 Company at this moment was received as follows:-
Officers –3 killed – 2 badly wounded – 3 present and correct.
Other Ranks – 4 whole Platoons killed or missing plus 26 other ranks from 2 Coy H.Q.
Present and correct, two Platoons.
In other words one third of 2 and 3 Companies were present and correct (at the most 32 and 40). It was quite obvious what would happen when darkness fell, and we didn't have to wait long. Patrols came at us from all directions, Spandaus, Grenades and very pistols were all let loose. When the patrols withdrew there was some fairly withering fire from 2 Company hill, which was heartening to know that the enemy had not taken the whole of 2 company positions.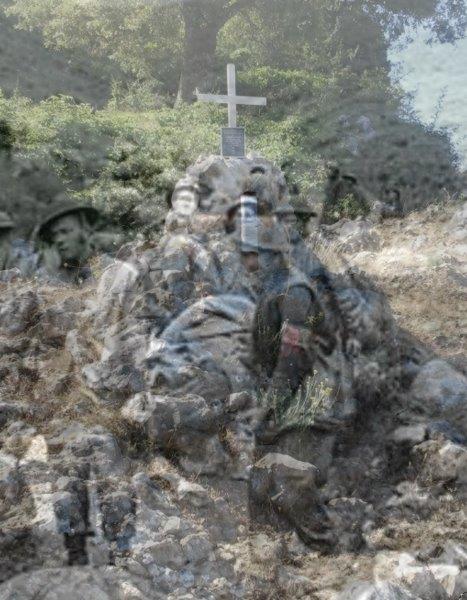 This was the situation when F Company Scots Guards arrived, plus the carrying party – not exactly an appetizer for an attack. 'Bones' Rathbone their Company Commander, who had just arrived from England after commanding a squadron of tanks in the G.A.D., was ill at ease. We thickened up our two Platoons with theirs and due to the fact that they would be attacking in the near future they didn't dig in. The stretcher party picked up the wounded, dumped the Compo boxes and water cans and departed. Ralph Howard refused to go down with it but Rodney Wace who was missing two fingers and a collapsed lung went, our walking wounded joined the party.
While the stretcher party had been with us there was little firing and it wasn't until about half an hour after they had gone that the assault started again. The Scots Guards suffered badly since they had no cover and were not dug in – a hideous fact that re-occurred throughout the next few days. There was a great deal of discussion as to when they should attack 2 company hill and it was eventually decided, that an attack just before dawn would be best, so the remaining hours of the night were spent in the same positions. This decision was taken mainly on account of the full moon which illuminated the few hundred yards of no mans land, as if it were daylight. The Grenadiers mucked in readily with the Scots Guards and shared their slit trenches, David Fyfe-Jamieson spent the night in mine and was his usual amusing self in spite of everything. The night continued with spasmodic firing and 50% of the Company remained 'standing to' the remainder went to the bottom of their slit trench but I don't think for a moment that anyone closed their eyes.
Shortly before dawn there was a certain amount of activity with the Scots Guards preparing for their attack, orders were given and one Platoon had got into forming up position, all was being made ready when something happened that altered the whole course of the battle. A German counter attack came in, the first wave came in between 2 and 3 Company hills as it was getting light, we could see them coming up, they overran the right hand section of the Company which was just over the crest, the section commander had previously been killed and the remainder of the section were all killed or taken prisoner, a spirited battle ensued, there was a deal of cheering for the Scots Guards by the Grenadiers, likewise the opposite, they never got further up than the right hand sections. When the counter attack died down 'Bones' Rathbone decided to change his Platoon positions and was just going down in front of my Platoon when another counter attack came in this time from the opposite direction. 'Bones' was the first casualty, he was caught in the chest by a burst of Spandau fire and died within a few minutes. The Germans came up to where Sgt Young's Platoon had been. Apparently they thought this a suitable place from which to 'bang off' at us. How right they were, they could see the whole Company dispositions and they manoeuvred Spandau's into position and enjoyed themselves enormously. This clever piece of work cost us a lot of casualties, 2 stretcher bearers were killed tending the wounded, it was suicide to move about and the Scots Guards must have suffered 50 casualties mainly because they were dug in. It was at this moment of the battle that John Brocklebank was killed, he was sitting up in a very shallow slit trench facing towards Sgt Young's old positions and was shot through the head by a rifle shot, he never felt a thing and indeed, we did not know he was dead until two hours later. It was terrible to see him sitting there as if he were alive with his Tommy gun at the ready, what a tragedy he never lived to be awarded his M.C.
Several times the Germans tried to edge forward but we kept them off. My servant, Gdsm Rolls, scored a direct hit with his rifle which pleased him enormously and made the heart go with a swing. David Fyfe-Jamieson got a bullet through the thigh, a clean flesh wound, he took it as you would expect him to, a few muttered curses but otherwise not a word. We bound him up with a F.D. and continued, David made a third in my trench. The Germans had bought up a small mortar in Sgt Young's position with which they banged away. The next incident of note was when the men's tin mugs etc., lying on my parapet, were removed by a burst of Spandau fire, rather a nasty shock; even worse when we realised that the firing came from 2 Company hill. It was now early afternoon, the firing increased, their mortar was particularly busy and a grenade landed on the right side of my slit trench when we were all standing up. It blinded my servant in both eyes, David in one and got me in the hand, but not seriously. A concerted effort was now put in, preceded by mortars. The badly wounded who lay on the terrace behind me got a rough time of it; it was dreadful to see the helpless being mortared and shot at and even worse to hear their cries. I shall never forget the Gdsm who received a grenade in his trench, he was unscathed apart from the fact that his right leg was smashed but still joined to him by a piece of trouser and bone, it lay beside him on the parapet of his slit trench and when he saw it he went off his head. Thank God he died before half an hour was out.
My slit trench being Platoon H.Q. seemed to be the collecting place for all the wounded who could get there, I used all my mortars and water. A Scots Guard Sgt who was very badly wounded in the left leg and arm died propped up against my sanger, I didn't realise he was dead until I tapped him on the shoulder to ask him how he was. The attack failed, although it almost finished off the Company, Ralph Howard was again wounded.
Darkness came and we collected the wounded, the section positions were manned by dead – propped up in their slit trenches with steel helmets and weapons, there were about 20 of 2 and 3 Company still able to fight, half of these were wounded but still able to carry on. It was decided to send down the walking wounded in an attempt to save their lives, the worse cases who were able to walk went, Ralph Howard still refused to go. My servant who had got back the sight in one eye went down with David Fyfe-Jamieson – the blind leading the blind, they apparently had a very good party on the way down on a bottle of rum! Having put up such a grand performance, set a magnificent example and reached the bottom of the mountain, it was shattering to hear that David had died of his wounds. He was a personality and a character that this country could ill afford to lose, a brave soldier and a grand sportsman, he is buried alongside some of his comrades in Minturno War Cemetery.
The night continued much as it had begun, a new and upsetting noise made its appearance, Spandau fire in our rear, in other words there were enemy between us and 4 Company at the top of Barearse. This embarrassed the situation somewhat since it meant that our line of communication was cut and also should we ever need it, our line of supply. Our thoughts were with the walking wounded, would they get back alright? Our thoughts were brought back to the present by an amount of firing from 2 Company hill, were they counter attacking? The dreaded question which haunted our minds for the next 24 hours, were we strong enough to hold them off.
Officers – 6 killed and 1 wounded and gone back, 1 present and badly wounded – 3 present and correct.
Other ranks – Killed – missing and badly wounded – 7 whole platoons, plus 26 from 2 company, Present and correct, two platoons.
The day following the departure of the walking wounded was marked by a howling gale together with sleet and rain, few had great coats and a gas cape had to suffice in keeping out the icy blasts. The walking wounded must have told a sad tale and made a low estimate of our numbers, for very soon shells started to land on our Company positions, they seemed to be coming from our own guns and were either falling short or perhaps they considered there to be not enough of us left to worry about, the firing was sporadic, a dozen or so rounds in a short space of time and then no more for perhaps an hour.
We gained wireless comms late in the day and learnt that a patrol would come up to us during the night. There was talk of us being relieved, by this time we were almost past caring and there was the question of whether the relieving troops could get through. Desmond Adair with a small patrol plus 4 stretcher bearers arrived halfway through the night after we had had a small skirmish and put Ralph Howard on a stretcher. He did not return the same way as he had come but went slightly below my platoon positions and then back. There was an explosion and several bursts of fire, then Ralph Howard shouted to me that the party had been attacked and asked for more stretcher bearers. A stretcher bearer went out and found 2 S.B's dead, one wounded and no sign of Desmond Adair. Ralph was eventually evacuated to safety, of Desmond we had no news for a long time. It was some 18 months later that his body was discovered and positively identified, he now rests with his comrades in Cassino War Cemetery.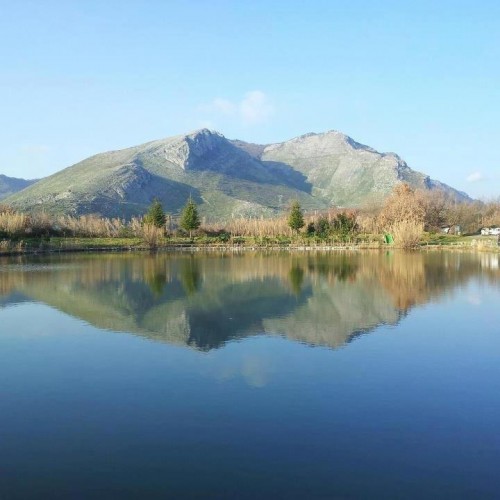 Some time later several Companies of the relieving troops (The Ox and Bucks Regt) arrived in our positions, we handed over what little ammo we had left showed them our positions and about an hour before dawn broke we started our journey down. There was no opposition and everything was so peaceful, the journey was a dream; not one of us ever expected to come down the mountain alive. A tot of rum for some but for others all they wanted was to sleep, some slept in the caves at Miele or in the large war damaged house, those that had taken their boots off could not get them back on again, their feet were swollen to twice the size with trench foot.
To end I would say that it was the endurance, courage and discipline of those three Companies that made it a memorable battle, they endured incessant fighting, vile weather and shortage of rations for longer, I should imagine, than any other Company in the whole Italian campaign, and if more troops had been available those lost lives and the deeds and endurance would have won a battle instead of being thrown away for no avail.
Lt. C M Wheatley (1946)
The poignant last verse of the 'D' Day Dodgers reminds us all of the destruction of war; added by Mike Sterling:-
Look around the mountains in the mud and rain
See the scattered crosses, some that bear no name
The heartbreak and sorrow are all gone
The boys beneath them slumber on
They are the D Day Dodgers, who'll stay in Italy