Monte Camino – The second Battle – 2nd – 5th December 1943
---
---
 Monte Camino – The second Battle – 2nd – 5th December 1943
Written by Lt Freeman-Attwood, Grenadier Guards
After our descent from the Mountain at the end of the first battle on the 11th November we were lodged for the night in caves some distance back and slept for over 24 hours on the ground, but at least under cover. At last we felt safe, but luck was shortly to smile again upon me quite unexpectedly. The Brigade Commander, Julian Gascoigne, had just been hit by shrapnel outside Battalion H.Q., a short distance away, and I was ordered to go to the R.A.P. to fetch the Medical Officer. This was half a mile up a muddy track which was still being shelled with some frequency, but I reached it safely and collected the Doctor, the Medical Sergeant and a stretcher bearer. The four of us set off in the Medical jeep at some speed, but as we began to move I heard the distant boom of enemy guns. We were scarcely round the first bend when the first shell hit the road where we had been standing a minute before, and the salvo began to chase us down the road, each shell getting closer than the last. After the third shell had burst just behind us, I shouted, "Stop take cover", the driver slamming on his brakes just as a shell burst alongside us, luckily in a ditch, and giving us the blast but not the shrapnel. The jeep was blown over and I was thrown out, but the Medical Sergeant was pinned underneath it. We were unable to move the vehicle and had to leave him while we got help. A somewhat shaken Doctor reached the Brigade Commander in time, and I returned to the jeep with helpers to extricate the wretched Sergeant who was bruised but otherwise intact. It was a near squeak, that journey, and all four of us were lucky to survive it.
The next day we marched back to the transport above the beech woods where we had concentrated ten days before and were taken back to Caserta Palace for a rest. This was a busy period of refurbishment and reinforcement and the highlight of it was the luxury of a hot bath and clean clothes. We had lost over 50% of our fighting strength on Camino and therefore much time and effort was spent in absorbing the drafts which had recently arrived from Philipville. This rest period coincided with the arrival in Italy of the Irish Guards Band, and the Army Commander, General Mark Clark who took the opportunity to inspect the Battalion and to compliment us on our performance on Camino. We marched past him in front of the Palace in our new Battle dress and it seemed strange, so soon after our nine days on the mountain, to be on parade as if back at Windsor. It was good for morale, however, and we felt proud to be able to show this American, once more, what Guardsmen could do.
The following week the Officers of the Brigade were again summoned to a Conference to hear General Templar expand on his plans for the next phase. Since the first battle had not exactly gone as he had assured us it would, there was some bitterness and scepticism felt by those present who had survived to hear him for the second time. On this occasion he was not quite so 'Monty – like' in style, but nevertheless his theme was "You have done well, but next time you will do better." "Next Time" was to be the second battle of Camino, only this time the whole Division, supported by 46th Div was to be deployed, supported by Corps Artillery, with an American Division attacking on our right on Monte Difensa. Two Brigades were to attack the two Camino ridges simultaneously with 201st Guards Brigade initially in reserve but prepared, in phase two, to pass through and capture the Aquapendola Ridge to the west of Camino itself.
Furthermore, 46 Div would attack on the left of 56 Div to attempt to prevent the enemy reinforcing Camino, and the Corps Artillery with some Artillery under 5th Army control would be available in support. In other words, a total of Seven Brigades supported by a great deal of Artillery would be operating in the attack to achieve what 201 Guards Brigade alone had come within an ace of achieving in the first battle.
The second Battle opened with an Artillery concentration the like which we had never seen. The official War Office report on the Battle described it as a "Series of 'Terror' concentrations of five minutes each onto all known or suspected enemy positions. Some of these were fired by all 436 guns, and were repeated three times on each selected area, and four times on Point 819 (the positions of 2 and 3 Coy's during the first battle). The average weight of shells fired on each selected point was 165 tons at a rate of 11 tons per minute. In all 71,000 shells, or some 1,329 tons, were fired between 17.30 hrs 1st December and 12.00 hrs the following day. In addition, fighter bombers attacked the positions to the west of Camino Ridge which was to be our objective in Phase 2, and this continued the following day at intervals.
The Battalion moved up the mule track between the two Camino ridges and waited beneath the cliffs we had fought on top of in the first Battle whilst the ridges on either side were occupied. The rocks here were large and close together, so that it was virtually impossible to lie down anywhere. Although we were protected from enemy shell fire we were not immune to mortar with their high trajectory and steep angle of descent, nor to the sharp pieces of flying rock which rained down on us when a bomb or shell hit the edge of the cliffs above us. It rained incessantly during those two days, and everyone was thoroughly wet and miserable. Casualties mounted steadily, and we fretted while waiting for the Coldstreams to attack the first features to the west (Points 683 and 615) so that we could pass through them and attack the final ridge of Aquapendola.
On the second day, the Coldstream attacked westwards from the top of 'Bare Arse' ridge but at first were unable to achieve the whole of their objectives. A second attack would be necessary to complete the operation but the Battalion were running short of ammunition, food and water, and were in a very exposed position. It was therefore vital that they should be re-supplied that night in order that they could resume the attack at first light, and an urgent message arrived from Brigade H.Q. to the effect that the 6th Btn was required to find a fighting patrol to escort a large party of porters to carry the supplies to the 'Coldstreamers' that night. I was detailed to command it and was to go immediately to Brigade H.Q. for briefing. Having given my Platoon Sgt a warning order to get the Platoon fed and prepared, I went off to receive my orders. The Brigade H.Q. position was some distance up a mule track, and since it was sited away from the cliffs it was vulnerable to enemy mortar fire. On arrival I found a scene of chaos and destruction. Mortar bombs had fallen on the H.Q. earlier, wounding the Brigade Commander and killing the Grenadier Liaison Officer (Lt Inchbald) and several other ranks. The Brigade Major had arrived from rear H.Q. and was in temporary command until the Senior Commanding Officer could be fetched over, and the only staff officer who seemed to know what was happening was the Brigade Intelligence Officer, Jonathan Blow. He briefed me, explaining the Coldstream predicament, and told me that it was vital to the whole Brigade operation that I should get through with the ammunition and supplies that night "at all costs".
I was given a map on which was marked the approximate position of the Battalion, but no guides could be provided and I would have to navigate by compass in pitch darkness. I was to pick up the porters (Guardsmen from another Company) at the top of the mule track where the R.Q.M.S. had established a supply point, and then move off into no mans land across country as soon as it was dark enough.
The route took us down the N.W side of Point 819 over incredibly rocky ground, and soon we came to banks of terraces which were some 5ft high and seemed to stretch endlessly round the mountain. The porters each carried either a compo ration box for 8 men, a box of 303 ammunition, a 4½ gallon jerry can of water or 3" Mortar bomb cases. All these were extremely heavy, and the porters also had their personal weapons to carry for their own protection. In the pitch darkness and travelling by compass bearing progress was painfully slow since loads had to be lifted carefully down each terrace, and contact had to be maintained at all times. My Platoon was deployed to protect the porters with one section in front, one to the north (The enemy side on our flank) and one to the rear, the main problem being to maintain control without having the patrol too concentrated and therefore vulnerable to mortar fire or enfilading machine guns. The burden on the porters was extreme and inevitably they made much noise with loads dropping and slipping over the rocks, their oaths pouring out continuously. The whole operation was a nightmare, and we were all too conscious how open we were to ambushing if any enemy patrols could infiltrate themselves between the top of Camino and the Coldstream position.
For the first two hours or so we were not directly attacked though there was a good deal of enemy firing on fixed lines to our right flank, and in front of us. The distance we had to cover was about 1 – 1½ miles, but over that impossible terrain, with those loads, and in total darkness, it seemed more like 10 miles. It was now about midnight and the firing in front of us was getting nearer. The porters were close to exhaustion, and although we had frequent short pauses to rest and listen, progress was becoming desperately slow. At about 00.30hrs we were obviously heard because a Spandau started firing directly at us, and individual rifle shots told us that snipers were at work as well. Luckily, the Spandau fire was high as it so often was at night, but the snipers found their mark here and there, and three men were hit in the space of a few minutes. These of course had to be left for the time being, and their loads transferred to men of my Platoon who's capacity for defensive action was thereby diminished. We could not answer the enemy fire, partly because we could not see them, but chiefly to avoid giving away our position further. It was a case of plunging onwards and hoping for the best.
At about 02.30hrs we were at last challenged by a Coldstream patrol and were led to a place where we could unload. This we did quickly, and although the incumbents were extremely pleased to see us, they were equally anxious that we should depart at once since we were drawing a certain amount of fire upon the area. We had lost 5 men en route and I wanted to get back to pick them up before light dawned, and to keep going before the men fell asleep on their feet.
There was a risk that we might have to fight our way home if a German patrol cut us off, and in any case we would be going home uphill, having to climb up the terraces rather than climb down them. In the event a German patrol did fire on us from a distance but I was determined not to get involved in a fire fight, and we pressed on, luckily receiving only one further casualty. We reached Battalion positions at about 05.00hrs, utterly exhausted but having achieved our objective, we had been extremely lucky.
There was an amusing episode resulting from that night's work, some 12 years later I walked into the Guards club in London and met Jonathan Blow who had given me the orders for that patrol. He looked at me as if he had seen a ghost, and said, "How can you be here – you were killed on Camino!" It transpired that he had not expected me to reach the Coldstream or to return intact, and he had heard that I was one of the casualties. Shortly afterwards he had himself been wounded, and our ways parted.
On our return to the Company area we discovered that the Battalion had been ordered to attack the Aquapendola feature to the West some 5 hours later, but we had time for a meal and a few hours' sleep before forming up to climb a gap in the cliff face to reach the top of Bare Arse Ridge where our start line was to be. It was an eerie feeling to be back on the ground we had spent 6 days on in the first Battle especially as the ridge sloped westwards, exposing us to the full view of the ridge which we were to attack about 1½ miles away.
At about 10 00hrs, under a barrage from the Divisional Artillery, we set off in extended order towards the left of the Coldstream positions which we would skirt on our way to Aquapendola (now named Arthur Pendola after the Regimental Adjutant). It became quickly apparent that there were still enemy positions firing from both flanks which became increasingly uncomfortable, with one machine gun in particular spraying us and causing some casualties. Strangely, however, there appeared to be little fire coming from our objective, and as we approached it we increased our speed so as to reach cover as quickly as we could. At that point I remember seeing a bullet hit the ground right alongside my left boot, and wondering whether another would follow it, it didn't, and we reached the ridge top safely and began to build sangers for defence.
From Aquapendola, for the first time, we could look down on the river Garigliano below with the Liri winding its way N.W. past Cassino towards Rome, and we began to feel some relief that the Camino massif was behind us. There was a good deal of shelling going on from both directions, but the enemy were retiring all along the front in order to reach the river before being cut off from their crossing places. The second Battle of Camino was almost over, but there was one more piece of drama to be acted out before the end.
Three ridges ran down north westward from the Aquapendola ridge and at right angles to it. These were about ½ mile apart with deep valleys between them, and at the bottom of the right hand one was the Village of Rocca d Evandro, a mile away and occupied by the enemy. The middle ridge had a knife edged top and was very rocky but with a good deal of scrubby bush on it. We did not know whether the ridges were occupied at any point and certainly we could not see any movement. The Divisional Commander was becoming impatient to complete the capture of these features before the enemy could consolidate, and ordered the Battalion to push patrols down them to capture Rocca d Evandro before dark.
Accordingly two patrols were hastily organised, one for the left hand ridge led by Tim Huntingdon, and one for the central ridge under my command. We were to move simultaneously and try to work our way down until we got opposite the village at which point a third patrol under Philip Parr would move down the right hand ridge who's flank would by then, be protected by us, and enter the Village whose exits would be covered by the first two patrols.
I set off with Sgt Watts, my Platoon Sergeant, and six men including a Bren Gunner. We moved carefully, stopping frequently to observe and listen since the nature of the ground favoured ambushes, and as we came over the ridge line we could see for the first time across miles of Country – the Liri Valley – and an enormous building in the far distance on top of a high steep hill. I remember saying to Sgt Watts, "I wonder what that is"? It was of course the Benedictine Monastery of Cassino, but we were not to know then what part this famous building was to play in the events of the next five Months.
When we were some 500 yards down our ridge we were suddenly fired on from across the valley on our left below where Tim Huntingdon was. It was a close call, and clearly we could be seen, we therefore nipped over the other side of the ridge hoping not to be seen from the right hand feature, but after another 100 yards we were again fired on, this time from that side. Visibility was extremely good, and since we were on a forward slope I realised that there was no way we could progress without being seen from one side or the other. Most of the firing was coming from the right side (which had none of our men on it) and presumably Tim's patrol on the left feature was keeping the enemy reasonably occupied. Having crawled down the slope a little to avoid the area then being shot at, we took cover and took stock. We could now see some movement over on the right, possibly and M.G 34 position, and thought that if we could snipe at it they might be persuaded to move away down towards the Village. I therefore detached two men to crawl back up the hill a bit, and to fire carefully aimed shots at the movement we had seen so that we could observed any reaction, and add to the fire if possible. After Ten minutes or so our snipers fired half a dozen shots which were answered by an angry burst of automatic fire which went well wide of us, but this demonstrated how well sited they were since we could not see their exact position.
It was by now obvious that we could make no progress in daylight unless there was simultaneous progress down all three ridges, and I therefore sent the two men back up the hill with orders to slip across the valley out of sight, and move carefully down the right hand ridge, firing at intervals to distract the enemy crew. A third man was sent back with a message to my Company Commander to explain what was happening, and meanwhile the rest of us moved gingerly down the slope to get a better view point. As we reached a large rock which we intended to take cover behind there was a burst of fire which knocked Sgt Watts against me, and we both fell down, his body falling across my legs. He had been shot through the wrist, and as I applied a first field dressing the firing continued, and pieces of rock were flying in every direction. The enemy could obviously see where we were, probably through a telescopic sight, and every little movement brought more fire. We were thoroughly pinned down. I shouted back to one of the patrol telling him to report further movement was impossible in daylight unless a greater degree of support was provided on the other ridge.
Eventually a message came back to stay put until dark, and meanwhile Sgt Watts, in a good deal of pain continued to lie across me until it became dark enough to move him without attracting fire. At last light a fighting patrol was sent down the right hand ridge and found the enemy position evacuated, and so moved on to the village. On the left, meanwhile, Tim had had the same problem as I had, but had been killed when approaching a German outpost. (His Platoon Sgt won a D.C.M. for retrieving his body under close and heavy fire).
This episode marked the end of the second Battle of Monte Camino for us. I had survived again despite two extremely uncomfortable patrols within 48 hours, my luck had held.
We occupied Rocca d Evandro for 24 hours and were then relieved to be taken out of the line for a rest, and for Christmas. It entailed a long and tiring march by night back across the west side of Camino to the concentration area from which we had been launched for the first battle, but at last we were not now being shot at. Only one event marred my relief that night, I was taking my turn in carrying a 7lb jar of rum which had been issued that evening to be drunk in our tea when we reached 'B' echelon, and I stumbled in the dark and fell, half asleep, smashing it in a hundred pieces, luckily the darkness swallowed me up, as well as the faces of my men, but I shall never forget the complete silence which greeted me at that moment. Not a word was uttered!
It was now 9th December and since the 6th November I had experienced more good fortune than most men have in a lifetime, and I was very conscious of this since the Battalion had lost over 50% of its strength in both Battles on Camino. In fact it turned out that I was the only Platoon Commander of a Rifle Company who took part in both Battles and remained unscathed. For this reason, after a few days, the Commanding Officer ordered me to go back to the mountain with some Pioneers to bury the dead of the Battalion, and search for the missing. I knew every position, nook and cranny intimately, and was the obvious person to undertake this gruesome but essential task. We worked for three of four days up there, wrapping bodies in blankets and signal wire collecting personal effects, noting names and numbers and building small Cairns of stone to mark the sites until the War Graves Commission could move the dead to a central cemetery, which proved to be Cassino some Months later. In 1950 on my way back from leave in the U.K. to Tripoli, I again climbed the Mountain and found two skeletons between the rocks of my Company position, the signal wire still around them. These had obviously been missed by the War Graves men. On reporting these facts to R.H.Q. a Commission party immediately sent out a team to collect the remains and bury them in Cassino cemetery.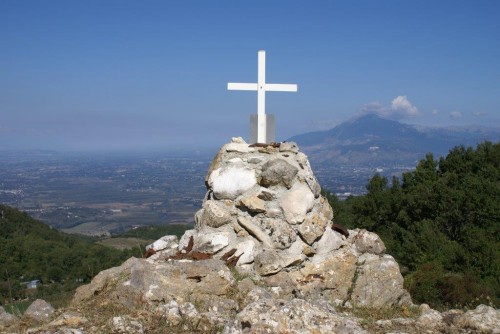 There is another monument to the British soldiers that fought and died on Camino, it was placed there in 1944 as a tribute to their bravery and endurance by the French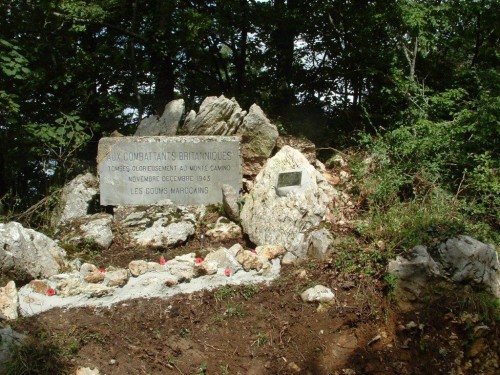 Moroccan Goums, these were the fierce Mountain Troops and the Germans were fearful of them, in fact they were the only Mountain troops serving in the 5th Army which puzzles me as to why General Mark Clark the American General did not use them until after Cassino where they cleared the mountains in no time. Their only fault was that once they had taken the objective either a mountain German stronghold or village or Town they thought it was their right to rape the local woman regardless of age and loot the property. The Memorial can be found at the top of the Mule Track.