Lt William Richard Watkins 1913 – 1944
   Lt. William Richard Watkins 1913-1944
2nd Monmouthshire Regiment
William Richard was born at the family home in Bryngwn Road, Newport, Monmouthshire on 19th February 1913.  He was the only son of William Turberville and Jane Watkins.
His father ran a timber and hardware business which was in Bridge Street, Newport called 'Watkins the Provider'.  Some may remember that this was where their broken dolls could be taken and repaired in his 'dolls hospital'.  In 1919 W T Watkins was presented with a silver cigarette case by the South Wales Argus for services rendered, he used to donate bunting and flags for use at the Royal Gwent Hospital fetes in Newport.
William Richard completed his education at Monmouth School 1926-1930, played rugby and cricket for the school, and reached the rank of CSM in the school OTC.
On 27th February 1937 at Newport Registry Office, William Richard married Brenda Clara Jones who was the youngest daughter of James Edward and Clara May Jones who lived in Woodville Road, Newport.
They moved to Bridgend, Mid Glamorgan where William Richard worked for Barclays Bank as a clerk.  Their only daughter Elizabeth Jane was born at 'Salvador', Park Street in Bridgend on the 30th April 1938.  'Salvador' was also the name of the Jones family home Woodville Road, Newport.
Following the declaration of war on 3rd September 1939 and keen to do his bit for King and country, William Richard enlisted in the Territorial Army at The Number 2 Reception Unit, Cardiff on 22nd September 1939.
On 23rd November 1939 Private W R Watkins 4195758 was posted to the 163rd OCTU.  The Artists Rifles, at Risborough Barracks, Shorncliffe, Kent.  His wife and daughter returned to the family home in Bryngwn Road, Newport.  On 23rd March 1940 he received his Emergency Commission, and as a 'native' of Monmouthshire he applied to join The South Wales Borderer's.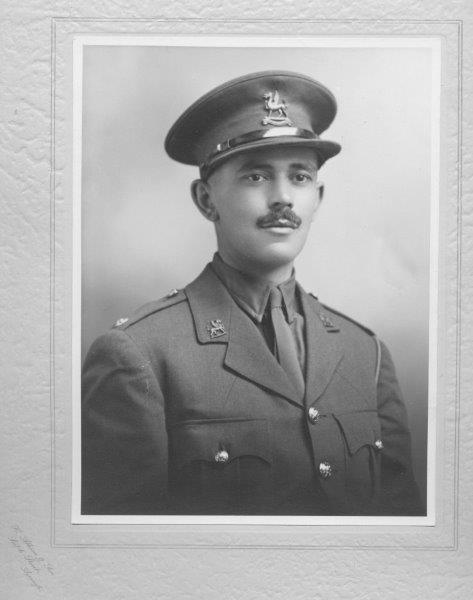 2nd Lieutenant W R Watkins 124588 was duly posted to the SWB at Brecon Barracks on the 5th April 1940.  His wife and daughter moved again this time to Redbrook Road, Newport.  Then on 20th April 1940 he was posted to Ballymena, Northern Ireland with the 2nd Monmouthshire Regiment.  His portrait photograph taken at the time by Allison & Son of Scotch Street, Armagh shows him wearing the cap badge of the 2nd Monmouthshire Regiment. Then on 22nd January 1941 he was transferred to the 53rd Battalion Reconnaissance Corps who were based at Ballykinler, Northern Ireland.  His wife Brenda was able to make several visits to Northern Ireland during this posting.
Between August 1940 and December 1942 Lt Watkins attended a number of training courses at various establishments namely Chiswick, Chilwell, Harrogate and Bovington.  On 4th March 1941 Lt Watkins was posted to the Reconnaissance Corps as part of 'Home Forces' back on mainland UK.  On 15th October 1943 he moved to the Reconnaissance Training Camp based at Catterick, Yorkshire. During the time back on mainland UK his wife Brenda was able to lodge with a Mrs Davies in Hayle Road, Maidstone.  The Rising Sun, The Castle and The Roebuck which were in Maidstone were favourite haunts for them both during spells of leave.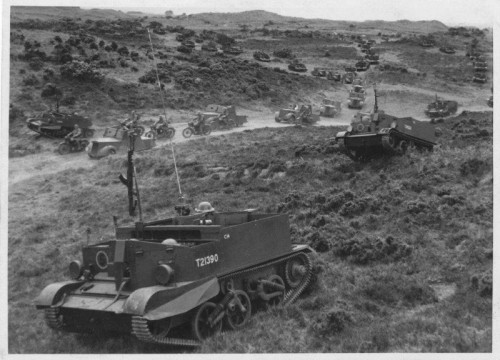 On 7th November 1943 he was posted to the 80th Reconnaissance Regiment who were a Holding & Training Regiment and were based at Heysham, Morecambe Bay on the site of the Butlins Holiday Camp.  The War Ministry had requisitioned the camp for military use during WW2.  On Christmas Day 1943 Lt Watkins left Liverpool by troop ship as part of The British North Africa Force stopping briefly at Algiers, before being posted to 3 Corps Reinforcement Unit.
On 1st February 1944 Lt Watkins was posted to the 56th Reconnaissance Regiment, BNAF who were deployed in the Agnone region of southern Italy.  During his brief posting with the 56th the weather worsened into blizzard conditions, 'Ops impossible all Troops engaged in snow clearing' was the entry the CO recorded in the Regimental War Diary.
Possibly due to bad weather Lt Watkins was posted to 202 Transit Camp where his role was described as General Duties.  When he arrived the camp was located at Termoli on the south eastern coast of Italy, and on 20th April 1944 the camp was relocated further up the coast at Vasto.
It was from 202 Transit Camp that his letters describe "pushing around in a sea of mud, the food in the Officer's mess is very good and the whole thing very well run (by me of course), we get one bottle of whisky every month, or you can but some 8s/td/ a bottle, we get one cinema show every week, there are no shops, we had a big event last Sunday and beat some Italians at football, silk stockings are £1 a pair, I get up early, work pretty hard, I go to bed early, there is nothing to do in the evenings except read by oil lamp, I cannot tell you what I have been doing as almost everything one says seems censorable".
On 12th July 1944 Bill's mother Jane, aged 60, passed away and was buried at St Woolas Cemetery, Newport on 14th July 1944.
On 25th August 1944 Lt Watkins was posted to the 1st Reconnaissance Regiment, Royal Armoured Corps, and he finally joins B Squadron in Florence, Italy at 22:00 hours on 28th August 1944.
The Allies had by now liberated the City of Florence south of the river Arno, but the retreating German Army had destroyed all the city's river bridges except one The Ponte Vecchio which was still standing, but its approaches were completely blocked at each end by demolished buildings.  By mid-August the Royal Engineers had built a Bailey bridge upon the ruins of the Ponte San Trinta to provide access to the north of the city, which allowed the Allied advance to continue.  Still fighting the Allies the German Army were in retreat and shelling all areas of the Florence sector.  As they withdrew their tactics involved laying mines, blowing roads and bridges to hinder the Allied advance.
1st Division Planning notes dated 30th August 1944 state, "1st Division to continue the advance up Arrow route as far as Borgo San Lorenzo, while 2nd US Corps to operate along the main road Florence – Vaglia – Bolognia".
Today, the 'Arrow' route from Florence to Borgo San Lorenzo is actually the SR302, while the 2nd US Corps route from Florence – Vaglia – Bolognia is actually the SP65.
On the 31st 1944 The Commanding Officer of 1st Recce Regt, Lt Col E A S Brett, records in the Regimental War Diary at 8:00 hours "C and B Squadrons put on one hours' notice".
Lt Watkins writes a letter to his wife in which he states "I am sitting in a most uncomfortable place writing this, I hope you can read it OK".  It is presumed he was sitting in his carrier.  Sadly, it was to be the last letter he wrote home.
At 17:00 hours the CO recorded "B Squadron organised for advance to contact"
At 19:07 hours B Squadron reported "815725 crater holding up"
At 20:00 hours the CO recorded "B Squadron report major blow at 815717"
At 20:05 hours B Squadron reported "shell fire coming from Fiesole hitting no-one, road blown 816714, so carrying on on foot"
At 22:00 hours the CO records "carrier goes up on mine while trying to get past 815717 Lt Watkins seriously injured and one DR (Dispatch Rider) (walking in front of carrier)"
Lt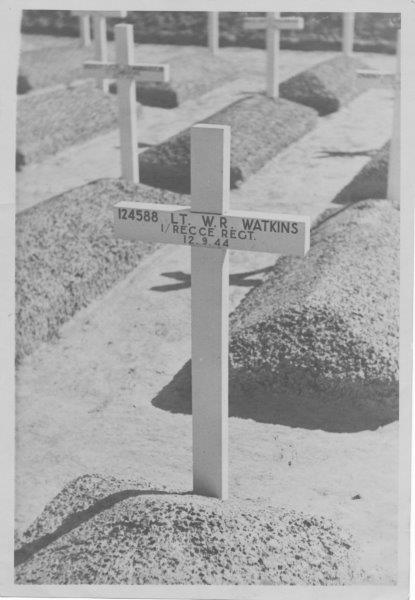 Watkins and the DR are treated by 3rd Field Ambulance, transferred to 8th Casualty Clearing Station.  Lt Watkins was then admitted to 58th General hospital, and on 3rd September 1944 he was transferred to 31st General Hospital where on the 12th September 1944 he died from his wounds.  The day he passed away, a telegram from the Under Secretary for War arrived at the Jones' family home in Woodville Road, stating that "Lt W R Watkins had been wounded on 31st August 1944".
Lt Col. E A S Brett who was the Commanding Officer of 1st Recce Regiment wrote a letter of sympathy to Brenda on 26th September 1944 in which he states "how dreadfully sorry I am for you in the death of your husband.  He was badly wounded by a mine which exploded near him and he died later in hospital.  I am sorry that I did not know your husband better.  He had only been in my regiment for a few days and this was his first time in action with us".
Major J A Acland who was the Officer Commanding B Squadron also wrote a letter of sympathy to Brenda on 3rd October 1944 in which he states "It is with deep regret that I am writing to you now but I have to tell you that your husband did a grand job of work while he was with us.  Your husband was only with my squadron for 3 days and bad luck was with him all the time.  I don't suppose you would like to hear the details, but I can say that he was crossing a minefield in front of his vehicle, and the vehicle ran over a mine throwing the shrapnel forward hitting your husband and a DR who was with him.  We gave him morphine on the spot and had him and the DR evacuated together".
The name of the DR may have been Trooper J O'Neil because the Duty Officer had recorded in the Duty Officers log at 22:50 hours the following "his casualty + O'Neil 2 Tp DR".
Lt K A Richards, who was a fellow Officer from B Squadron, also wrote a letter of sympathy to Brenda on 8th October 1944 in which he states "I can find no words to express my deepest sympathy in your terrible loss, but I hope my letter will help a little.  I was not with Bill when he was wounded, but on hearing the awful news rushed over on a bike to see the 'Doc'.  He told me that Bill had been walking in front of his carrier up our main route out of Florence, when it went up on a mine.  Bill was seriously injured in the head, and was sent straight away to hospital".
Lt K A Richards wrote again to Brenda on 17th December 1944 telling her that "Bill is buried at The British Cemetery, Arezzo which is about 20 miles south east of Florence.  Arezzo is right beneath some beautiful hills on the River Arus, and is a lovely place".
On 1st August 1962 Bill's father William aged 80, passed away, and was buried on 2rd August at St Woolas Cemetery, Newport, alongside his wife.  Previously an inscription in memory of their only son had already been added to the grave.
On 28th November 1990 Bill's widow Brenda passed away aged 74.  She chose not to visit her husband's grave in Italy but the portrait photograph of him which was taken by Allison & Son, Scotch Street, Armagh was always proudly displayed at every home.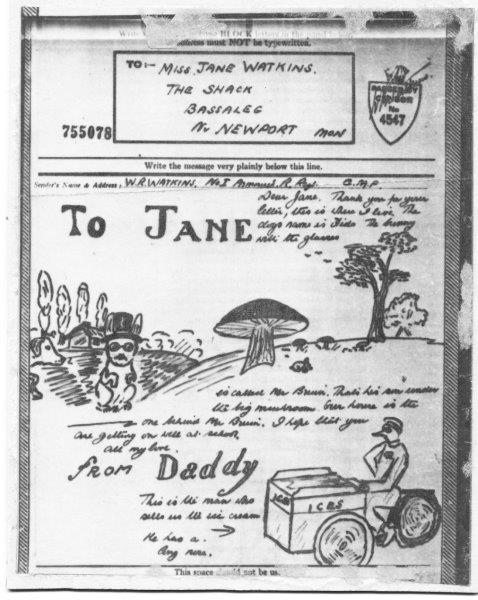 In October 1992, Elizabeth Jane made the difficult decision to visit her father's grave; followed by a second visit in September 1998.  On her last visit she found that The Book of Remembrance containing names of those who are buried at Arezzo Military Cemetery was actually open at her father's page – this seemed amazing as the pages are turned daily!  The South Wales Argus featured her visit and in it she recalled "it was a sad but lovely visit".
In February 2004 Elizabeth Jane made a donation to Monmouth School which was used to fund an inscription on The School's Roll of Honour 1939-1945.
Then on 27th October 2012 following a protracted illness, Elizabeth passed away, aged 74.  Her remains were later interred alongside her mother in the family grave at St Woolas Cemetery, Newport.  She never married, or had any children of her own.