HARRY SHINDLER, MBE
---
---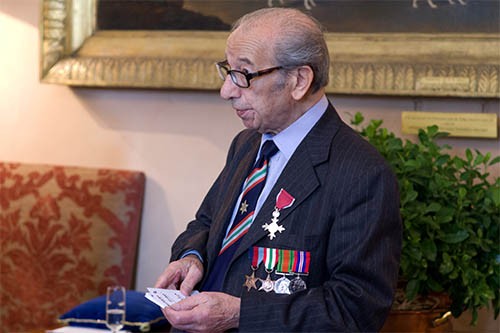 Surely one of the brightest and best pieces of good news for the Association recently, has been that Her Majesty The Queen has bestowed upon Harry Shindler (our representative in Italy for many years) the honour of an award of the MBE (Member of the Order of the British Empire), which was presented to him on 19th February 2014, by the British Ambassador, Christopher Prentice, at a ceremony held at the latter's official residence.
The Ambassador was quoted as saying of Harry: "No objective has been too great, no task too onerous, and his extraordinary tenacity in seeking to overcome the many obstacles and challenges that he has faced, is an extraordinary example to us all".
Harry, veteran of the Anzio landings and the liberation of Rome, in the thirty years plus that he has lived in Italy, has acquired and developed fighting techniques of a different sort: those of being an indefatigable advocate for Anglo-Italian relations; for the rights of British expatriates in Italy; for the Italy Star Association 1943 – 1945; for tracing the graves of his countrymen, killed or missing in action; and, probably most importantly, ensuring that the selfless heroism and bravery of the British servicemen who fought and died to liberate Italy, are never forgotten (eg: by talking to students in schools and universities to improve young people's knowledge and understanding of why the war was fought).
It is typical of the dedication of the man – described by one admiring supporter as, "a fine example of the Bulldog spirit." – that the day before receiving his MBE, Harry had accompanied Roger Waters, Pink Floyd musician, to commemorative events in Anzio and Aprilia. That was the seventieth anniversary of Waters' father's death, Harry having helped to locate the battlefield where Lieutenant Waters was killed (when Waters himself was just five months old).
Just when you might be forgiven for thinking that the depth and breadth of Harry's portfolio of matters over the years would be more than enough to keep one fully occupied, in recent times he has become well known as figurehead in the fight to have voting rights restored to foreign-based UK citizens who, under current legislation, lose their right to vote in British elections after living abroad for more than 15 years. Although Harry's case was rejected by the European Court of Human Rights in Strasbourg in May 2013, as was the subsequent appeal the following September, demonstrating his tenacity and single-minded determination, his stated intention next is to refer his case to the United Nations' International Court of Justice, believing that his disenfranchisement is a violation of the Universal Charter of Human Rights.
I am sure that I speak for the entire membership of the Association in wishing Harry well with his continuing efforts on behalf of his former comrades-in-arms and families, his countrymen, colleagues, associates and friends everywhere.
So, Harry, with our deep gratitude for all that you do and have done, and with apologies to William Shakespeare, I cannot think of a better way, nor a more rousing note, on which to finish than by quoting from Henry V: "the game is afoot, follow your spirit, and upon this charge, cry: God for Harry……."
Mary Tidy
National Chairman
Italy Star Association 1943 – 1945.