London weekend – Remembrance services, November 2013
---
---
I was emotional and excited at the prospect of four days in London with particular emphasis on remembering the fallen and our surviving veterans.
Living as we do, in North Devon, we decided to take pressure off ourselves and booked to stay on the outskirts of London for five nights. We also planned to incorporate a couple of theatre trips and visits to various London sights.
We had been keenly watching weather forecasts in the hope of dry and not too cold weather for the two outdoor services which we and members of the Association would be attending. Our prayers were answered!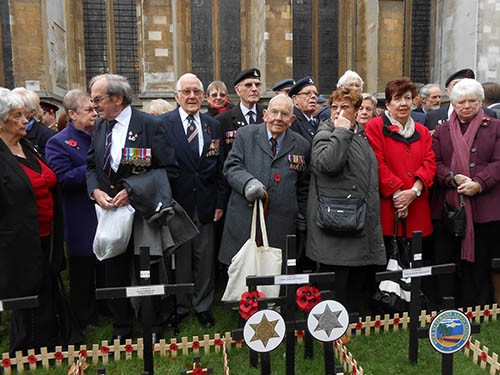 Thursday 7th dawned dry and not as cold as last year. Setting off from our hotel in good time we were cleared by the security check and found the Association plot. It is unfortunately always in the shade, but is in a good focal position on the main path up to the Abbey. Those who had ordered tickets (which are free by the way, should you be thinking of coming next year!) gradually arrived – we numbered about 18 which was lovely and cosy! I say that as the plots are very narrow; so that everyone gets a reasonable view of the guest of honour (this year Princes Philip and Harry) we have to stand very close together.
The service is very short, but nonetheless poignant and heralded by the trumpeters who are up on the roof of St Margaret's church. Sadly our plot representative Frank Horn was poorly on the day so had to stay at home tucked up in bed. We are indebted to Milsom Watkins 12 (Finsbury Rifles) Light AA Regiment Royal Artillery TA of Central London Branch for standing in Frank's shoes and not being fazed by the security staff because he didn't sport the appropriate badge! Neither Prince Philip nor Prince Harry stopped at our plot but were close enough to let us photograph them!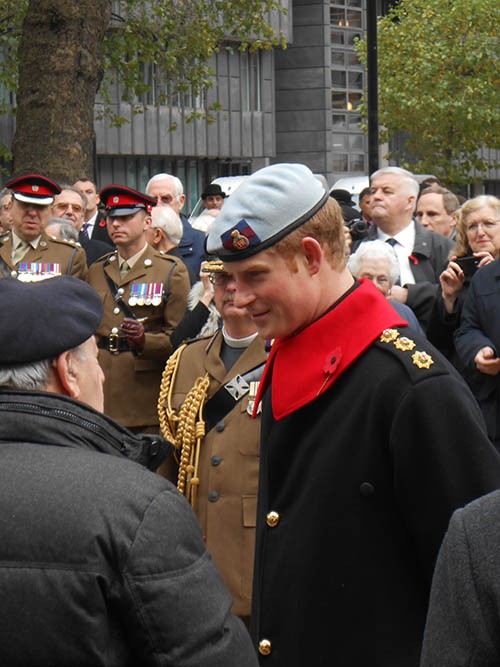 Thank you to all who came to support the memories of those who have gone before us and in whose name we proudly wear our Association colours.
Friday was a damp day! Ideal for visiting museums! We decided on trying to get in to the Houses of Parliament and were fortunate enough to sit in on sessions in the House of Commons and House of Lords. An absolutely fascinating experience, one we can thoroughly recommend to anyone with some time to spare when in London. We also went to the Imperial War Museum, spending time at the exhibition which featured Victoria and Military Cross holders, not only from veterans of wars but other public sector services too. There is a very large exhibition relating to the holocaust which I personally found harrowing. The museum is undergoing a huge refurbishment to make an area which will be opening next year to feature the centenary of the first world war. Hopefully, next November we will be able to visit again and see that section.
Saturday too was rather damp so we headed for Churchill's bunker! I had imagined it was only one room. It is in fact a labyrinth of corridors and rooms, most of which are just as they were left in August 1945! We happily spent four hours looking and listening intently to the individual full guide recordings, which set the picture descriptively for each room or area.
After a meal, glass of wine and change of outfit (for me anyway) we headed across to the Royal Albert Hall where we had been invited by the National President of the Royal British Legion, to be his guest at the evening performance of the Festival of Remembrance. The invitation came as a result of the Italy Star Association's National standard being included in the Festival, so Grahame and I felt hugely honoured to represent the Association and to be seated just along from the Royal box, with a superb view of the performances. Our box was hosted by one of the Board of Trustees of the Royal British Legion. Other guests included the secretary of the RAF Benevolent Fund and the Registrar of The Chelsea Hospital!
Credit must go to Joe Correa, our National standard bearer, for a superbly executed performance – it filled us with pride to hear Huw Edwards mention the Association by name, we were willing Joe on as he came down the steps directly underneath us to cross the floor of the Hall. Well done Joe, and thank you again for giving your time to further the Association.
I must just mention that after the Festival, we went to a drinks reception and mingled with more dignitaries and famous faces, including Alan Titchmarsh. I was bold enough to introduce myself to him and explain who I was representing and asked him to pose for a photograph and to sign my programme! I wasn't bold enough to ask if he could do my garden!! We were quite exhausted with the excitement of the evening and, after our train journey back to our hotel, knew we didn't dare oversleep on Sunday morning!
We had a 6am alarm call and were on the train back in to London by 8.15am, mingling with hundreds of people on the sunny streets, virtually all of whom were heading for Whitehall – the air was electric!
First, we had to meet up with Association members on Horse Guards Parade and gradually everyone arrived in time for form up and the walk through onto Whitehall. By this time fellow marchers and onlookers numbered thousands and still the sun shone and the bands played! Our column had a good position, very close to the Cenotaph and alongside a giant screen, so we were able to watch as the service unfolded and the Queen, her family and heads of State paid their respects to the fallen and laid wreaths at the base of the Cenotaph.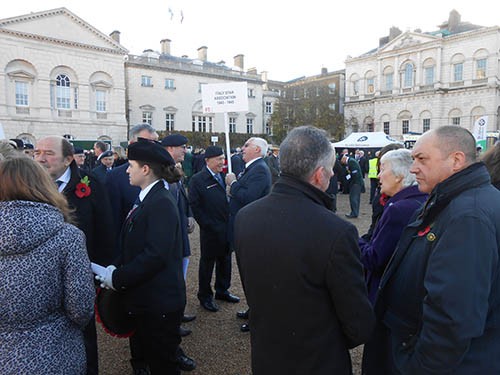 In the lead-up to this particular occasion, I had been in close contact with the BBC to do my utmost (in this special anniversary year) to have the Association mentioned and recognition given to the part our veterans played in the 2nd World War. I was told that David Dimbleby wanted to feature the Italian campaign and was heartened further to be asked if the veterans of our Association who were planning to march would be happy to be interviewed by Sophie Raworth! Eureka I cried to myself!! The BBC researcher had phoned Ted Marks and laid the ground for Sunday's chat with Sophie. Sadly, Frank still not being too well, wasn't able to do the preliminary research phone call.
As our column set off on the march past, we were "buzzed" by the roving camera who zoomed in on Ted and Frank, whilst David Dimbleby did a brief mention of the Italy Star Association we hear later!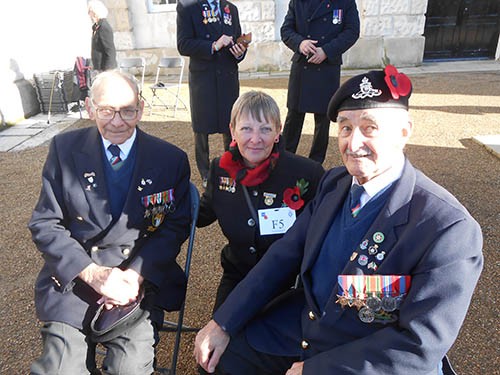 The march is an experience in itself, and this year 36 members of the Association were present to feel the warmth of the crowds, and sense that we were perpetuating the memories not only of our loved ones – but also the memories of all loved ones who fought – that they will never be forgotten. I would like to make special mention of Harry and Stewart Clarke who flew in from Belfast to join the parade in memory of Private Samuel Walter Clarke (Battalion, Durham Light Infantry). Samuel died age 31 on 14th 1st August 1944 and is buried at Arezzo War Cemetery. Harry and his family have just undertaken another pilgrimage to Italy to pay their respects at Samuel's resting place.
We came full circle back to Horse Guards Parade passing Her Royal Highness Princess Anne, who took the salute. On falling out, Ted, Frank and I went to a pre-arranged muster point to await a chat with Sophie Raworth. Very disappointingly, as we moved up the queue, a BBC "gofer" came to say that the camera had broken down so the interview could not go ahead, they were very sorry, but hoped we could do it next year!! I am afraid I could not contain my response and said: "and what if Frank and Ted are not able to be here!". It seems to me that there is not really a deep need in so many people to record our veterans' stories – sadly to them it is just a job!
If anyone reading this feels they would like to attend either the Field of Remembrance or Cenotaph services, do get in touch with me next June/July. Attendance to the Festival of Remembrance at the Royal Albert Hall is through membership of the Royal British Legion branches, or by invitation only.
I would like to extend a very big THANK YOU to all those who have attended the services and I hope that those who for whatever reason were unable to be there, managed to see and hear that The Italy Star Association 1943 – 1945 received mention – we can only hope that there may be more people out there who also heard about us and will make enquiries.
Mary Tidy
National Chairman.