28th Maori Battalion
---
---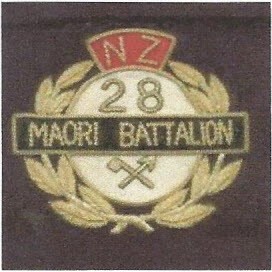 In a historic first, the small South Island town of Reefton commemorated veterans of the 28th Maori Battalion. Local Ngai Tahu hapu were invited to lead commemorations.
We've come here to implement the aspirations and desire by the community and be a physical presence, but also at the same time to remember those who died and those who returned," said Te Rua Mason (Poutini Ngai Tahu).
The ceremony marked the week that the battalion returned home to Wellington in 1946 from the WWII battlegrounds of Greece, Crete, North Africa and Italy.
Ex-servicemen marched into the town centre for a powhiri hosted bylocal iwi and community leaders, who are working to keep their history alive.
Tony Groves of the Reef ton RSA considered it an honour to welcome the local iwi Ngati Waiwai into their doors, for the first time. "The 28th Maori Battalion was a significant part of New Zealand history, both military and national history and nothing like this has been done by our area before," said Groves. "So, from there we decided that we should do a commemoration service for them and if we were going to do it, it has to be done the right way within Maori protocols."
Although the few surviving servicemen from the battalion could not attend the ceremony, there were still special moments for their families to honour them. "I feel very proud," said Greg Wood, whose father served as one of the 3,500 men to serve New Zealand over the course of the war.
National RSA kaumatua, Miki Apiti said, I was happy when I heard of this event in commemoration of those who served in the 28th Maori Battalion."
"In communities and small towns like Reefton, they remember the historical battles fought by our Maori soldiers," said Lieutenant-Colonel and author, Sir Wira Gardiner.
A local store owner said the commemorations were fantastic.
"And to think that we can be part of this and pass this on to our grandchildren is great."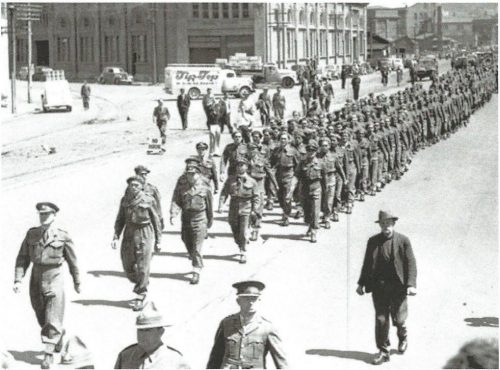 Image reference: Lieutentant-Colonel James Henare leads the 28th Maori Battalion through the streets of Wellington in January 1946, following their arrival home from Italy on the Dominion Monarch.
Alexander Turnbull Library. Reference: 1/2-C- 016251-F
E te iwi, anei he whakaaturanga mo tatou! (0 people, is it a show for us!)
from 28th Maori Battalion website.
A book is being written about the 28th Maori Battalion's Delta Company
Ex-serviceman and historian Harawira Pearless is penning the first book regarding the 28th Battalion's Delta company. He says the tribal and also geographic differences compared to the other Companies is vast. The sons of Ngai Tahu who fought for each other is the focus of a new book. "These men were mutton bird and pigeon hunters. They lived near the sea. They were strong people from whalers and hunters," he says.
For the last eight months, Pearless has been recording stories from whanau of soldiers of D Company, documenting their major battles, actions, and engagements during World War II. "They were fearless soldiers. Many of the ancestors from that platoon received medals for bravery, such as Ihaia Weepu from Te Arahura, Haki Tainui from Te Wairewa and Wiremu McCray also from
Te Wairewa. They fought in many battles, including Greece, Crete, Egypt and Italy."
Another stark difference Pearless highlights are the broad geographic spread of D Company compared to their North Island counterparts.
"The 18th platoon of D Company came from the South Island. Company D is made up of 82 percent of the country's geographical area."
D Company was the only company to have Non-Maori soldiers among their ranks.
"Soldiers hailed from Samoa, Tonga, Rarotonga, Niue, Moriori and Tahiti.
There was a Pikau- Shawnee Indian from South America."
The book is expected to be completed by May next year.
The above post was sent to us by Peter Scott, Chairman, Italy Star Association, South Island New Zealand.