Tank Attack at Monte Cassino (The Cavendish Road Operation 1944) by Jeffrey Plowman
---
---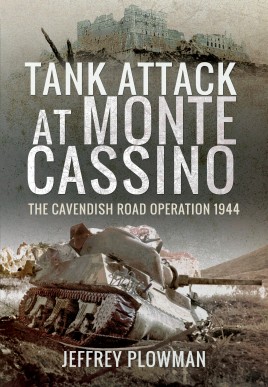 –
Early morning, 19 March 1944. Tanks manned by New Zealanders, Indians and Americans launch a daring attack along a narrow mountain track on German positions north of Monte Cassino. So began one of the most audacious Allied attempts to break through the Gustav Line and advance on Rome – and it almost succeeded. Yet the extraordinary story has seldom been told, and it has never been told before in the vivid detail Jeffrey Plowman brings to this new account.
Using operational orders, combat reports, unit diaries, post-battle photos from private and public archives and the graphic personal accounts of those who took part, he describes the construction of Cavendish Road and the course of the entire operation that followed. The planning for the attack and the men involved are described in a gripping and clear-sighted way, as is the attack itself – its initial rapid success and its ultimate failure.
Eighty years later Jeffrey Plowman reveals exactly what happened and shows how and why this bold thrust against the German strongpoints at Monte Cassino, which could have turned the course of the battle, ended in retreat. His book also features a visitor's guide that covers the length of Cavendish Road from the village of Caira to Massa Albaneta, linking each spot with the events described in the narrative.
ABOUT THE AUTHOR
ISBN : 9781526764904
Date Published :
May 2020
Publisher :
Pen and Sword
Illustration :
100 color & black and white illustrations